The Peabody Sisters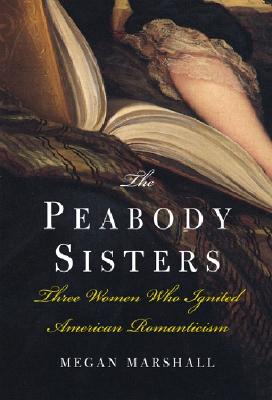 The Peabody Sisters
Three Women Who Ignited American Romanticism
Houghton Mifflin Harcourt, Hardcover, 9780395389928, 624pp.
Publication Date: April 1, 2005
* Individual store prices may vary.
Not Currently Available for Direct Purchase
or
Shop Local
Enter your zip code below to purchase from an indie close to you.
Description
Elizabeth, Mary, and Sophia Peabody were in many ways our American Brontes. The story of these remarkable sisters — and their central role in shaping the thinking of their day — has never before been fully told. Twenty years in the making, Megan Marshall's monumental biograpy brings the era of creative ferment known as American Romanticism to new life. Elizabeth, the oldest sister, was a mind-on-fire thinker. A powerful influence on the great writers of the era — Emerson, Hawthorne, and Thoreau among them — she also published some of their earliest works. It was Elizabeth who prodded these newly minted Transcendentalists away from Emerson's individualism and toward a greater connection to others. Mary was a determined and passionate reformer who finally found her soul mate in the great educator Horace Mann. The frail Sophia was a painter who won the admiration of the preeminent society artists of the day. She married Nathaniel Hawthorne — but not before Hawthorne threw the delicate dynamics among the sisters into disarray. Marshall focuses on the moment when the Peabody sisters made their indelible mark on history. Her unprecedented research into these lives uncovered thousands of letters never read before as well as other previously unmined original sources. The Peabody Sisters casts new light on a legendary American era. Its publication is destined to become an event in American biography.
This book is highly recommended for students and reading groups interested in American history, American literature, and women's studies. It is a wonderful look into 19th-century life.
About the Author
Megan Marshall worked for two decades on her award-winning biography The Peabody Sisters, spending many years tracking down the sisters' letters and journals. Her work was supported by fellowships from the Guggenheim Foundation and the National Endowment for the Humanities. She has written for the New Yorker, the New York Times, Slate and other publications. She is now at work on a biography of Ebe Hawthorne, sister of Nathaniel, for which she has received a Radcliffe Institute fellowship.
Praise For The Peabody Sisters…
"Outstanding . . . Marshall has distilled 20 years of research into a book that brings the sisters to life." Publishers Weekly, Starred

"An engrossing account, replete with both penetrating insights and interesting details." --Mary Ellen Quinn Booklist, ALA, Starred Review

"An excellent biography...a colorful and sympathetic portrait of these remarkable women." --Francine Prose The New York Times Book Review

"A stunning work of biography and intellectual history. . .the intellectual equivalent of a triple axel." --William Grimes The New York Times

"This monumental biography answers every question about its subjects but one: Why aren't the Peabody sisters famous? . . . Vibrant." --Sue Corbett People Magazine

"The real fascination is in [the Peabody sisters'] linked lives, and those have now been ably re-created." --Michael Kenney Boston Globe