Sector 7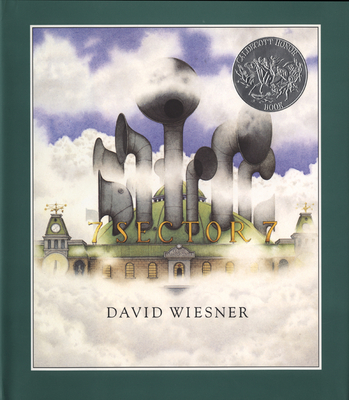 Sector 7
Clarion Books, Library Binding, 9780395746561, 48pp.
Publication Date: September 20, 1999
* Individual store prices may vary.
Buy at Local Store
Enter your zip code below to purchase from an indie close to you.
or
Buy Here
Description
Only the person who gave us Tuesday could have devised this fantastic CaldecottHonor-winningtale, which begins with a school trip to the Empire State Building. There a boy makes friends with a mischievous little cloud, who whisks him away to the Cloud Dispatch Center for Sector 7 (the region that includes New York City). The clouds are bored with their everyday shapes, so the boy obligingly starts to sketch some new ones. . . . The wordless yet eloquent account of this unparalleled adventure is a funny, touching story about art, friendship, and the weather, as well as a visual tour de force.
Praise For Sector 7…
"Although Wiesner's latest picture-book fantasy appears at first to be wordless, it actually has some words that are quite important. On a class trip to the Empire State Building, a boy who likes to draw is approached by a friendly cloud who takes him to Sector 7, a "terminal" reminiscent of a train station in the sky, where clouds form according to blueprints drawn up by grumpy, unimaginative humans. It seems the clouds are itching for a makeover, and the boy, pencil and paper in hand, gives it to them. Because words such as terminal, arrivals, and assignment station, which appear on signs in the pictures, are necessary to establish the scene in some instances, younger children may need adult help with the book. But the clever sometimes overlapping illustrations are wonderful: strong and precise, they range from detailed, realistic renderings of places and human characters to pictures of fluffy clouds, at once diaphanous and substantial, complete with expressive faces, and fat, fascinating four-fingered hands. A book for somewhat older children than the ones who "read" books by John Goodall and his ilk, but a good choice for getting the imagination to work." Booklist, ALA

"Finding shapes in the clouds is a grand pastime on a lazy day. But what makes those shapes anyway? and what if you had the power to alter them, to create new forms and details when amorphous arrangements are the norm? In a fittingly wordless book, this is exactly what happens to one young boy on a field trip to the top of the Empire State Building-where anything can happen, if movies are to be believed. This time, as the building is veiled in mist, a friendly cloud appears to the boy and after a few playful moments takes him on a tour of Sector 7, a factory-like satellite where clouds are shaped, classified, and distributed. The structure is like a Victorian railroad station with signs noting arrival and departure times, but tubes shaped like large funnels, not tracks, disperse the clouds to their assigned locations. The organization is hierarchical, regimented, and traditional. Perhaps that is why the playful cloud interjects a new element-a boy with imagination who can draw. And draw he does, fantastic shapes of sea life that confound the regular staff members who do not appreciate his artistry. Expelled for insubordina-tion, he is sent via cloud-carrier back to the Empire State Building just in time to rejoin his schoolmates for the return trip. But there is a different aura about him, and the clouds he inspired are amazing onlookers-much to the consternation of Sector 7! As with all wordless books, individual readers will supply the "text"; consequently, interpretations of exactly what's going on may differ depending upon age, sophistication, and experience. The illustrations, ranging from full-page spreads to small vignettes, are startlingly and powerfully conceived, the fanciful cloud-shapes both funny and elegant. Reminiscent of both William Pene du Bois's Lion and Pat Cummings's C.L.O.U.D.S., the book nevertheless ascends to new heights. In fact, it definitely inspires a bit of sky-watching." Horn Book

"From levitating frogs to giant vegetables that take wing, Wiesner resuscitates his fondness for flying in another stretch of his imagination. In a wordless story told through picture panels and murals, a young boy is overtaken by fog on a class field trip to the top of the Empire State Building. He befriends a snowmanlike cloud who dons the boy's red cap and scarf and wings him to an ominous factory in the sky. Dubbed Sector 7, this imposing, industrial hunk of machinery is a Grand Central Station for clouds, from which they're all dispatched. The boy learns that clouds can freely take on various shapes, and soon has them twisting and stretching themselves into fish, to the dismay of the grim, uniformed workers. In a showy display, the clouds invade Manhattan, surprising cats at windows and children below. Wiesner's fans will rediscover all his favorite motifsdreams overlapping reality, metamorphosing creatures, and morerendered in precise watercolors with tilted perspectives." Kirkus Reviews

"Finding shapes in the clouds is a grand pastime on a lazy day. But what makes those shapes anyway? and what if you had the power to alter them, to create new forms and details when amorphous arrangements are the norm? In a fittingly wordless book, this is exactly what happens to one young boy on a field trip to the top of the Empire State Building-where anything can happen, if movies are to be believed. This time, as the building is veiled in mist, a friendly cloud appears to the boy and after a few playful moments takes him on a tour of Sector 7, a factory-like satellite where clouds are shaped, classified, and distributed. The structure is like a Victorian railroad station with signs noting arrival and departure times, but tubes shaped like large funnels, not tracks, disperse the clouds to their assigned locattions. The organization is hhhhhhierarchical, regimented, and traditional. Perhaps that is why the playful cloud interjects a new element-a boy with imagination who can draw. And draw he does, fantastic shapes of sea life that confound the regular staff members who do not appreciate his artistry. Expelled for insubordination, he is sent via cloud-carrier back to the Empire State Building just in time to rejoin his schoolmates for the return trip. But there is a different aura about him, and the clouds he inspired are amazing onlookers-much to the consternation of Sector 7! As with all wordless books, individual readers will supply the "text"; consequently, interpretations of exactly what's going on may differ depending upon age, sophistication, and experience. The illustrations, ranging from full-page spreads to small vignettes, are startlingly and powerfully conceived, the fanciful cloud-shapes both funny and elegant. Reminiscent of both William Pene du Bois's Lion and Pat Cummings's C.L.O.U.D.S., the book nevertheless ascends to new heights. In fact, it definitely inspires a bit of sky-watching." Horn Book, Starred

"Wiesner's fans will be on Cloud 9 with this wordless scenario of a class trip to the Empire State Building. . . . The framed panels have a cinematic quality that sweeps readers off into the clouds along with the boy. This wittily depicted stretch of the imagination displays Wiesner's talent in top form." School Library Journal, Starred

"Caldecott Medalist Wiesner (TUESDAY) again takes to the air, with watercolors that render words superfluous." Publishers Weekly, Starred