Q Is for Quarry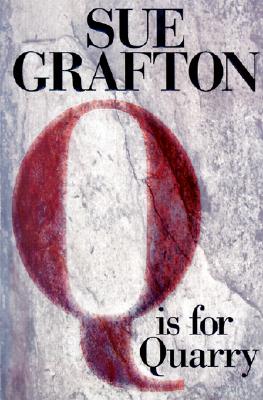 Q Is for Quarry
A Kinsey Millhone Novel
Marian Wood Books/Putnam, Hardcover, 9780399149153, 400pp.
Publication Date: October 14, 2002
* Individual store prices may vary.
Buy Now
or
Shop Local
Enter your zip code below to purchase from an indie close to you.
Description
Quarry, n. An open excavation.
Quarry, v. Transitive: To dig or take from. Intransitive: To delve into.
Quarry, n. An object pursued or hunted; prey.
She was a "Jane Doe," an unidentified white female whose decomposed body was discovered near a quarry off California's Highway 1. The case fell to the Santa Teresa County Sheriff's Department, but the detectives had little to go on. The woman was young, her hands were bound with a length of wire, there were multiple stab wounds, and her throat had been slashed. After months of investigation, the murder remained unsolved.
That was eighteen years ago. Now the two men who found the body, both nearing the end of long careers in law enforcement, want one last shot at the case. Old and ill, they need someone to help with their legwork and they turn to Kinsey Millhone. They will, they tell her, find closure if they can just identify the victim. Kinsey is intrigued and agrees to the job.
But revisiting the past can be a dangerous business, and what begins with the pursuit of Jane Doe's real identity ends in a high-risk hunt for her killer.
About the Author
Sue Grafton entered the mystery field in 1982 with the publication of "'A' Is for Alibi", which introduced female hard-boiled private investigator, Kinsey Millhone, operating out of the fictional town of Santa Teresa, (aka Santa Barbara) California. "'B' is for Burglar" followed in 1985 and the series, now referred to as 'the alphabet' mysteries, is still going strong. In addition to her books, she s published several Kinsey Millhone short stories, and with her husband, Steven Humphrey, has written numerous movies for television, including A Killer in the Family (starring Robert Mitchum), Love on the Run (starring Alec Baldwin and Stephanie Zimbalist) and two Agatha Christie adaptations, Sparkling Cyanide and Caribbean Mystery, which starred Helen Hayes. Grafton is published in 28 countries and 26 languages. She loves cats, gardens, and good cuisine. Sue has a home in Montecito, California, and another in Louisville, the city in which she was born and raised.
Praise For Q Is for Quarry…
"Q Is for Quarry provides more insight into the detective's convoluted family relationships than any of Grafton's previous novels, and it's a cracking good story, as well." —Bookpage



"Grafton weaves an intriguing story, convincing in detail and satisfying in development. Still, what lifts this above the crowd is the character of her protagonist, Kinsey Millhone, who rings true both as a detective and as a woman." —The San Diego Tribune



"Starring affable private eye Kinsey Milhone, Q is quintessential Grafton. It is so well-written that many readers might consider it one of her best." —USA Today