Saving Fish from Drowning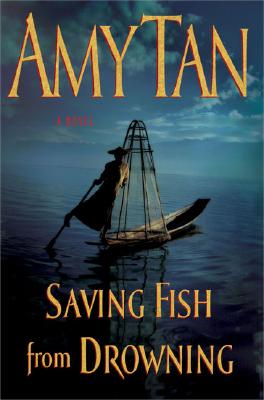 Saving Fish from Drowning
Putnam Adult, Hardcover, 9780399153013, 496pp.
Publication Date: October 18, 2005
* Individual store prices may vary.
Not Currently Available for Direct Purchase
or
Shop Local
Enter your zip code below to purchase from an indie close to you.
Description
A provocative new novel from the bestselling author of The Joy Luck Club and The Bonesetter's Daughter.

On an ill-fated art expedition into the southern Shan state of Burma, eleven Americans leave their Floating Island Resort for a Christmas-morning tour-and disappear. Through twists of fate, curses, and just plain human error, they find themselves deep in the jungle, where they encounter a tribe awaiting the return of the leader and the mythical book of wisdom that will protect them from the ravages and destruction of the Myanmar military regime.

Saving Fish from Drowning seduces the reader with a fagade of Buddhist illusions, magician's tricks, and light comedy, even as the absurd and picaresque spiral into a gripping morality tale about the consequences of intentions-both good and bad-and about the shared responsibility that individuals must accept for the actions of others.

A pious man explained to his followers: "It is evil to take lives and noble to save them. Each day I pledge to save a hundred lives. I drop my net in the lake and scoop out a hundred fishes. I place the fishes on the bank, where they flop and twirl. 'Don't be scared,' I tell those fishes. 'I am saving you from drowning.' Soon enough, the fishes grow calm and lie still. Yet, sad to say, I am always too late. The fishes expire. And because it is evil to waste anything, I take those dead fishes to market and I sell them for a good price. With the money I receive, I buy more nets so I can save more fishes."
About the Author
Amy Tan is the author of The Joy Luck Club, The Kitchen God's Wife, The Hundred Secret Senses, The Bonesetter's Daughter, The Opposite of Fate, Saving Fish from Drowning, and two children's books, The Moon Lady and The Chinese Siamese Cat, which has been adapted as Sagwa, a PBS series for children. Tan was also the co-producer and co-screenwriter of the film version of The Joy Luck Club, and her essays and stories have appeared in numerous magazines and anthologies. Her work has been translated into more than twenty-five languages. Tan, who has a master's degree in linguistics from San Jose University, has worked as a language specialist to programs serving children with developmental disabilities. She lives with her husband in San Francisco and New York.