I'm Sorry You Feel That Way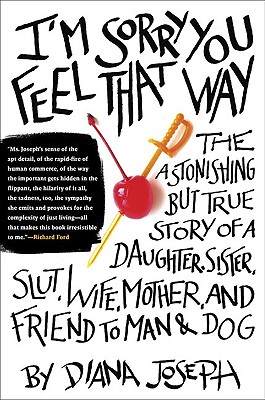 I'm Sorry You Feel That Way
The Astonishing but True Story of a Daughter, Sister, Slut,Wife, Mother, andFriend to Man and Dog
Amy Einhorn Books/Putnam, Hardcover, 9780399155284, 224pp.
Publication Date: March 5, 2009
* Individual store prices may vary.
Buy at Local Store
Enter your zip code below to purchase from an indie close to you.
or
Not Currently Available for Direct Purchase
Description
Meet the men in Diana Joseph's life: "The boy," Diana's fourteen-year-old son, who supports the NRA and dreams of living in a house with wall-to-wall carpeting; Diana's father, who's called her on the telephone twice, ever, and who sat her down when she was twelve to caution her against becoming a slut (she didn't listen); Diana's brothers, or, as her father calls them, "the two assholes"; Diana's ex-husband, a lumberjack with three ex-wives, yet he's still the first one she calls when she's in a jam; and Diana's common-law husband, Al, an English professor who's been mistakenly called mentally challenged. Ostensibly organized around the various men in Diana's life, this is really a memoir about what it's like to be a modern, smart woman making her way in the world.
About the Author
Diana Joseph has worked as a waitress, a short-order cook, a typist, and a teacher. Her essay "The Boy" won the Kentucky Women Writers Prize for Creative Nonfiction. Joseph currently teaches in the MFA program at Minnesota State University, Mankato.