U Is for Undertow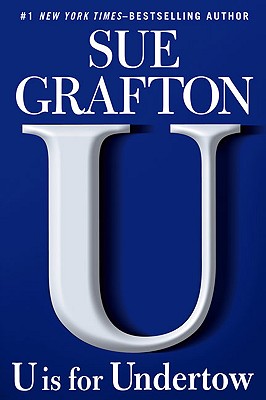 U Is for Undertow
Putnam Adult, Hardcover, 9780399155970, 403pp.
Publication Date: December 1, 2009
* Individual store prices may vary.
Buy Now
or
Shop Local
Enter your zip code below to purchase from an indie close to you.
Description
Calling "T is for Trespass" taut, terrifying, transfixing and terrific, USA Today went on to ask, What does it take to write twenty novels about the same character and manage to create a fresh, genre-bending novel every time? It's a question worth pondering. Through twenty excursions into the dark side of the human soul, Sue Grafton has never written the same book twice. And so it is with this, her twenty-first. Once again, she breaks genre formulas, giving us a twisting, complex, surprise-filled, and totally satisfying thriller.
It's April, 1988, a month before Kinsey Millhone's thirty-eighth birthday, and she's alone in her office doing paperwork when a young man arrives unannounced. He has a preppy air about him and looks as if he d be carded if he tried to buy booze, but Michael Sutton is twenty-seven, an unemployed college dropout. Twenty-one years earlier, a four-year-old girl disappeared. A recent reference to her kidnapping has triggered a flood of memories. Sutton now believes he stumbled on her lonely burial when he was six years old. He wants Kinsey's help in locating the child's remains and finding the men who killed her. It's a long shot but he's willing to pay cash up front, and Kinsey agrees to give him one day. As her investigation unfolds, she discovers Michael Sutton has an uneasy relationship with the truth. In essence, he's the boy who cried wolf. Is his current story true or simply one more in a long line of fabrications?
Grafton moves the narrative between the eighties and the sixties, changing points of view, building multiple subplots, and creating memorable characters. Gradually, we see how they all connect. But at the beating center of the novel is Kinsey Millhone, sharp-tongued, observant, a loner a heroine, said "The New York Times Book Review," with foibles you can laugh at and faults you can forgive.
About the Author
Sue Grafton entered the mystery field in 1982 with the publication of "'A' Is for Alibi", which introduced female hard-boiled private investigator, Kinsey Millhone, operating out of the fictional town of Santa Teresa, (aka Santa Barbara) California. "'B' is for Burglar" followed in 1985 and the series, now referred to as 'the alphabet' mysteries, is still going strong. In addition to her books, she s published several Kinsey Millhone short stories, and with her husband, Steven Humphrey, has written numerous movies for television, including A Killer in the Family (starring Robert Mitchum), Love on the Run (starring Alec Baldwin and Stephanie Zimbalist) and two Agatha Christie adaptations, Sparkling Cyanide and Caribbean Mystery, which starred Helen Hayes. Grafton is published in 28 countries and 26 languages. She loves cats, gardens, and good cuisine. Sue has a home in Montecito, California, and another in Louisville, the city in which she was born and raised.