The Mullah's Storm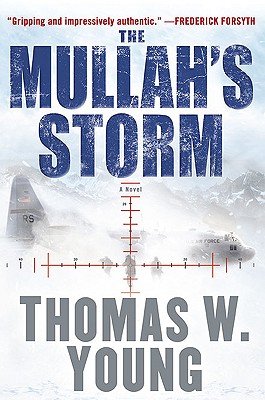 The Mullah's Storm
Putnam Adult, Hardcover, 9780399156922, 288pp.
Publication Date: September 7, 2010
* Individual store prices may vary.
Buy at Local Store
Enter your zip code below to purchase from an indie close to you.
or
Not Currently Available for Direct Purchase
Description
A transport plane carrying an important Taliban detainee for interrogation is shot down in a blizzard over Afghanistan. For two people-navigator Michael Parson and a woman Army interpreter, Sergeant Gold-a battle for survival begins across some of the most forbidding terrain on earth against not only the hazards of nature but the treacheries of man: the Taliban stalking them; the villagers, whose loyalty is unknown; and a prisoner who would very much like the three of them to be caught. All Parson and Gold have is each other, to stay alive.
It is a novel of relentless pace and constant surprise-and the beginning of a brilliant career.
Watch a Video
About the Author
Tom Young has logged nearly 4,000 hours as a flight engineer for the Air National Guard in Afghanistan, Iraq, Bosnia, Kosovo, and elsewhere, including Latin America, the Horn of Africa, and the Far East. Military honors include two Air Medals, three Aerial Achievement Medals, and the Air Force Combat Action Medal. He continues to serve with the Air National Guard as a Senior Master Sergeant.He holds degrees from the University of North Carolina at Chapel Hill, and studied writing there and at the Sewanee Writers' Conference, among other places. He is also the author of the oral history "The Speed of Heat: An Airlift Wing at War in Iraq and Afghanistan," and contributed to the anthology "Operation Homecoming," edited by Andrew Carroll. Young lives in Alexandria, Virginia.
Praise For The Mullah's Storm…
"One of the most exciting new thriller talents in years!"
-Vince Flynn

"Gripping and impressively authentic."
-Frederick Forsyth

"Explosive! A gutsy, gritty thriller told only as one who's been there and done that could write it. You will long remember this terrifying, timely tale-and its terrific new writer."
-W. E. B. Griffin and William E. Butterworth IV

"Courage and honor in the face of the enemy have not been so brilliantly portrayed since the great novels of the Second World War. I would recommend Thomas Young's magnificent novel to anybody."
-Jack Higgins

"The Mullah's Storm tears along with the terror and immediacy of a nightmare. Thomas Young takes us on the trip every soldier dreads: alone, injured, and being chased through enemy territory. I couldn't put it down."
-Nathaniel Fick, CEO, Center for a New American Security, and author of One Bullet Away: The Making of a Marine Officer

"The Mullah's Storm is a riveting, gale-force tale, impossible to put down. Thomas Young air-drops the reader into the Hindu Kush, surrounded by razor-sharp ridges and miles of unbroken silence, always blurring the line between hunter or hunted. Combining a sniper's precision with a poet's economy of language, Young's debut makes you grateful to be reading safely indoors, but just a little nervous about who might be watching you."
-Craig Mullaney, Department of Defense, Principal Director for Afghanistan, Pakistan, and Central Asia, and author of The Unforgiving Minute: A Soldier's Education

"The Mullah's Storm digs in its hooks from the first chapter and never lets go. There are writers, and there are fighters - readers are lucky that Thomas Young is both."
-Alex Berenson, Author of The Faithful Spy and The Midnight House

"Thomas W. Young is an airman, and a natural-born novelist. If you want to know and to feel what it's like to serve in Afghanistan, this novel is for you. If you are a fan of Patrick O'Brian or C. S. Forester, this novel is for you."
-John Casey, National Book Award-winning author of Spartina

"Thomas Young has written an exciting, creative, and heart-pounding story set in the complex war zone of Afghanistan that he knows well. The polished style and surprising plot turns rivet you to each page. This is a great read for anyone who loves a great survival story superbly told."
-General Anthony C. Zinni, USMC (Ret.) Former Commander in Chief, U.S. Central Command

"I found The Mullah's Storm captivating. Like Tom Clancy, Young has an eye for detail about military equipment, operations, and thinking that will ring true with any veteran-something that is not often achieved by other authors-and his portrayal of Afghanistan is not only accurate but most relevant to current events and worth the read alone. Most of all, the story's suspense holds the reader in its grip. The extreme chase from hope to despair and back makes it impossible to put down."
-General Chuck Horner, USAF (Ret.)Former Commander, U.S. Central Command Air Forces

"At last, an Air Force action hero! A C-130 navigator struggles to survive in winter in the Hindu Kush. The plot and the action move with the speed and power of a B-1 bomber."
-Bing West, Author of No True Glory and The Strongest Tribe

"Thomas W. Young writes with the authority of a man who has lived to tell the tale, and he tells it at breakneck pace. He has written a page-turner that might've been torn from today's headlines. The prose crackles with grit and gunfire. The Mullah's Storm is an engrossing, enlightening, and extremely entertaining debut."
-Doug Stanton, Author of Horse Soldiers and In Harm's Way

"The Mullah's Storm is the most realistic and compelling novel that I have ever read. It is suspenseful and electrifying from beginning to end, and as close to reality as it could possibly be. The knowledge, experience, and insights of the author and his ability in writing this book is amazing. It is a 'must read' - and once you start, you will not want to put it down. The Mullah's Storm will surely be a best seller."

-General Carl Stiner, U.S. Army (Ret.) Former Commander in Chief, U.S. Special Operations Command