The Care and Handling of Roses with Thorns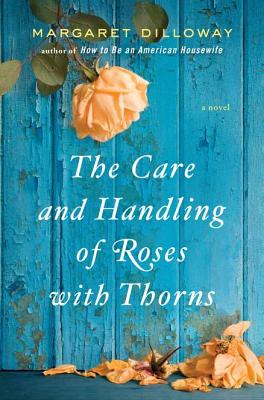 The Care and Handling of Roses with Thorns
Putnam Adult, Hardcover, 9780399157752, 356pp.
Publication Date: August 2, 2012
* Individual store prices may vary.
Buy at Local Store
Enter your zip code below to purchase from an indie close to you.
or
Not Currently Available for Direct Purchase
Description
Thirty-six-year-old Gal Garner lives a regimented life. Her job teaching biology and her struggle with kidney disease keep her toggling between the high school, the hospital, and her home on a strict schedule.
Only at home, in her garden, does Gal come alive. It's here that she experiments with Hulthemia roses, painstakingly cross-pollinating various specimens in the hopes of creating a brand-new variation of spectacular beauty. But even her passion has a highly structured goal: Gal wants to win Queen of Show in a major competition and bring that rose to market.
Then one afternoon Gal's teenaged niece Riley, the daughter of her estranged sister, arrives. Unannounced. Neither one of them will ever be the same.
Filled with gorgeous details of the art of rose breeding, "The Care and Handling of Roses with Thorns" is a testament to the redemptive power of love.
About the Author
Margaret Dilloway was a California Arts Scholar in Creative Writing and won a National Council of Teacher English writing award. She practiced writing in a variety of forms, such as being a theater critic and contributing editor for two weekly newspapers, doing technical writing, and playwriting, before publishing three critically acclaimed books for adults, How to Be an American Housewife, The Care and Handling of Roses with Thorns, and Sisters of Heart and Snow.
Praise For The Care and Handling of Roses with Thorns…
Praise for The Care and Handling of Roses with Thorns:

"Dilloway artfully weaves the intricacies of rose floriculture with her characters' teen angst and epiphany, an anguished wait for a new kidney, lost and newfound friends, reconciliation, and hope." —Kit-Bacon Gressitt, North County Times "[An] exquisite little novel . . . Dilloway's keen prose and an unexpected ending lift The Care and Handling of Roses With Thorns above mere schmaltz into something special."—Entertainment Weekly "Believable situations with well-drawn characters make this novel as lovely as the roses Gal tends.  Dilloway's second novel is a captivating study of how love and understanding nurture our lives.  Engaging, enlightening, thoughtful, this is a winner." —Library Journal "A richly textured diversion from standard treatments of family angst, Dilloway's new novel expresses a graceful understanding of the virtues of mercy."—Booklist  "[An] exquisitely written novel about love and redemption." —Kirkus

"I was captivated from the very first page. This uplifting novel about family and forgiveness brought me to both laughter and tears. By the end of this honest, engaging journey, I had grown to love all of the characters and was left with a new appreciation of the fragility and beauty of our daily happiness."—Jean Kwok, New York Times–bestselling author of Girl in Translation "Dilloway's rapturous new novel showcases a prickly heroine who shows what happens, when despite the formidable odds before us, we risk blooming. What flowers is knockout and to say I loved this book is understatement."—Caroline Leavitt, New York Times bestselling author of Pictures of You 

"Galilee Garner is as prickly, thorny, and gracefully sweet as one of her prize roses. and her supporting characters bloom with their own quirks and virtues. A fun and uplifting read."—Tiffany Baker, New York Times bestselling author of The Little Giant of Aberdeen County

"The Care and Handling of Roses with Thorns is a tender, moving story that shows how family not only has the capacity to wound, but offers us the possibility to bloom again."—Shilpi Somaya Gowda, bestselling author of Secret Daughter "Even readers with black thumbs will be enchanted by the bramble beauty that is Galilee Garner. Dilloway has cultivated a fascinating plot in the rich science and magic of flower breeding. A story about family and the ways in which the unexpected blossom is often the most cherished. This novel is a rose personified."—Sarah McCoy, author of The Baker's Daughter and The Time It Snowed In Puerto Rico  "A touching, moving story . . . Margaret Dilloway is a gifted, talented writer."—Darien Gee, author of Friendship Bread