The Gods of Gotham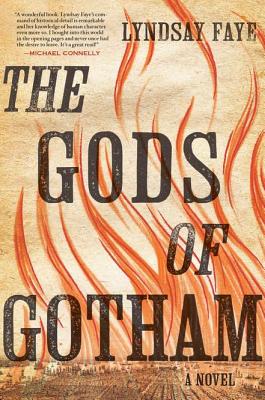 The Gods of Gotham
Amy Einhorn Books, Hardcover, 9780399158377, 414pp.
Publication Date: March 15, 2012
* Individual store prices may vary.
Buy at Local Store
Enter your zip code below to purchase from an indie close to you.
or
Not Currently Available for Direct Purchase
Description
1845. New York City forms its first police force. The great potato famine hits Ireland. These two seemingly disparate events will change New York City. Forever.
Timothy Wilde tends bar near the Exchange, saving every dollar and shilling in hopes of winning the girl of his dreams. But when his dreams literally incinerate in a fire devastating downtown Manhattan, he finds himself disfigured, unemployed, and homeless. His older brother obtains Timothy a job in the newly minted NYPD, but he is highly skeptical of this untested "police force." And he is less than thrilled that his new beat is the notoriously down-and-out Sixth Ward-at the border of Five Points, the world's most notorious slum.
One night while returning from his rounds, heartsick and defeated, Timothy runs into a little slip of a girl a girl not more than ten years old dashing through the dark in her nightshift . . . covered head to toe in blood.
Timothy knows he should take the girl to the House of Refuge, yet he can't bring himself to abandon her. Instead, he takes her home, where she spins wild stories, claiming that dozens of bodies are buried in the forest north of 23rd Street. Timothy isn't sure whether to believe her or not, but, as the truth unfolds, the reluctant copper star finds himself engaged in a battle for justice that nearly costs him his brother, his romantic obsession, and his own life.
About the Author
Lyndsay Faye is the author of critically acclaimed "Dust and Shadow" and is featured in Best American Mystery Stories 2010. Faye, a true New Yorker in the sense that she was born elsewhere, lives in Manhattan with her husband, Gabriel. To learn more about Lyndsay Faye, please visit www.lyndsayfaye.com.
Praise For The Gods of Gotham…
"The Gods of Gotham is a wonderful book. Lyndsay Faye's command of historical detail is remarkable, and her knowledge of human character even more so. I bought into this world in the opening pages and never once had the desire to leave. It's a great read!" —Michael Connelly

"Lyndsay Faye is a superstar-caliber writer. She confidently and exquisitely re-creates the past while her characters live on with you in the present, the elusive gold standard for a historical novel. The Gods of Gotham is a gift to the genre that readers will surely relish while we wait for Faye's next one." —Matthew Pearl, bestselling author of The Dante Club

"Intriguingly complex yet deliciously smooth, The Gods of Gotham is, in a word, stunning. The vivid characters and deft use of the historical setting read like the work of an established writer at the top of her (or indeed, his) career—that Faye is a newcomer is cause for an exuberance of fireworks, at the mere thought of so many superb novels yet to come." —Laurie R. King, New York Times–bestselling author of The God of the Hive and The Beekeeper's Apprentice

"The Gods of Gotham is a revelation. Lyndsay Faye puts the drive and passion of a modern thriller onto the mean streets of 1840s New York. She brings a fascinating page of history to life with a gripping, twisty plot, vivid characters, and seamless research. This is historical fiction at its best." —Daniel Stashower, two-time Edgar-winning author of Teller of Tales and The Beautiful Cigar Girl

"Lyndsay Faye's exquisite new novel, The Gods of Gotham, plunges us into the teeming, sordid streets of old New York. But this is no Whartonian idyll—Faye's Manhattan is a raucous underworld of criminals and chiselers, the infamous Five Points, where thieves speak their own argot, the sanitation department consists of free-running pigs, and Tammany-backed 'dead rabbits' rule with an iron fist. In this vivid and impeccably crafted adventure, newly minted 'copper star' Timothy Wilde is the only man who can solve a series of gruesome murders plaguing Gotham. Faye's prose crackles with historical authenticity so cunningly rendered that readers will lose themselves from the very first turn of the page." —Katherine Howe, bestselling author of The Physick Book of Deliverance Dane

"Penetrating psychological study, flawless social history, beautifully crafted thriller . . . The Gods of Gotham is all these things, and a crackling great yarn to boot. Old New York has never been so blazingly alive. Lyndsay Faye is a writer to watch—and keep watching." —Louis Bayard, author of The School of Night

"The Gods of Gotham is an enthralling novel that immediately pulls readers into its twisting tale of murder, conspiracy, and socio-religious turmoil. With an engaging narrator, smart rendering of time and place, and gripping suspense, this superb story is virtually impossible to put down." —Stefanie Pintoff, Edgar–winning author of In the Shadow of Gotham

"With crisp prose, memorable characters, and an impressive respect for its historic setting, The Gods of Gotham pulls you into old New York's days of the Five Points. Lyndsay Faye is a writer to watch." —Alafair Burke, author of Long Gone

"Reading The Gods of Gotham is like being magically transported to another time. You'll be overwhelmed with the sights, sounds, smells, and chaos of New York in the 1840s, while never losing sight of the fact that this is a first-rate crime novel for any era. I can't wait to see what Lyndsay Faye will conjure next." —Otto Penzler, The Mysterious Bookshop

"Lyndsay Faye makes it look easy to write a great historical mystery: First, research the hell out of a remote time period, painstakingly paint a picture of that alien world (in this case, mid-nineteenth-century New York), and then craft a story so compelling that the reader forgets that it's alien! Her masterful Dust and Shadow reinvigorated Sherlock Holmes versus Jack the Ripper, but this wholly different tale confirms a talent far beyond her (damn her) thirty-year-old age." —Leslie S. Klinger, author of The New Annotated Sherlock Holmes

"The Gods of Gotham blew me away. Unflinching and bold, creative and dazzling, cinematic: nineteenth-century New York is alive." —Laura Caldwell, author of Long Way Home and Claim of Innocence

"The Gods of Gotham is a detective tale set in an era before the invention of the detective. Fully captured are the vibrant scenes and vivid characters of 1840s New York: cavernous oyster saloons, gutter rats feasting on oxtail, righteous abolitionists haranguing skeptics, opulent Greene Street brothels, and much more. Lyndsay Faye captures antebellum New York in all its warped beauty and pornographic decadence." —Timothy J. Gilfoyle, professor and chair of history, Loyola University Chicago

"It's been almost twenty years since Caleb Carr's bestselling Olde New York crime novel, The Alienist, was published, and I can't count the number of times since then that someone has asked me if I can recommend a suspense story anything 'like it.' Well, New York has inspired lots of terrific thrillers, but I've just stumbled on one of the worthiest successors yet. Lyndsay Faye's novel, The Gods of Gotham." —Maureen Corrigan, NPR's Fresh Air

"Put Lyndsay Faye's The Gods of Gotham on your to-buy list. . . . A treat for readers." —USA Today




 "[A] rollicking historical novel . . . sensational account . . ." —Marilyn Stasio, The New York Times Book Review


"Vivid period details, fully formed characters, and a blockbuster of twisty plot put Faye in a class with Caleb Carr." —Publishers Weekly (starred review)


"[A] top-notch historical thriller  . . . Faye's richly imagined, superbly plotted narrative . . . delivers not one, not two, but three bravura twists." —Kirkus Reviews



"Faye's new novel . . . dramatically light[s] up this turbulent era. [Her] use of flash, an underground language akin to thieves' cant (British criminal jargon), further enriches this engrossing historical thriller." —Library Journal (starred review)





One of Kirkus Review's Top 10 Best Crime Novels of 2012