Hidden America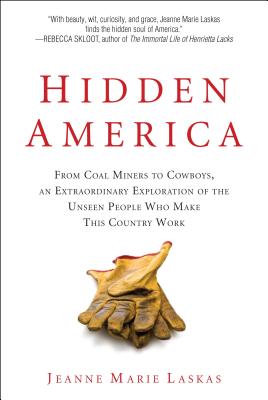 Hidden America
From Coal Miners to Cowboys, an Extraordinary Exploration of the Unseen People Who Make This Country Work
Putnam Adult, Hardcover, 9780399159008, 318pp.
Publication Date: September 13, 2012
* Individual store prices may vary.
Buy at Local Store
Enter your zip code below to purchase from an indie close to you.
or
Not Currently Available for Direct Purchase
Description
Five hundred feet underground, Jeanne Marie Laskas asked a coal miner named Smitty, Do you think it's weird that people know so little about you? He replied, I don t think people know too much about the way the whole damn country works.
Hidden America intends to fix that. Like John McPhee and Susan Orlean, Laskas dives deep into her subjects and emerges with character-driven narratives that are gripping, funny, and revelatory. In Hidden America, the stories are about the people who make our lives run every day and yet we barely think of them.
Laskas spent weeks in an Ohio coal mine and on an Alaskan oil rig; in a Maine migrant labor camp, a Texas beef ranch, the air traffic control tower at New York's LaGuardia Airport, a California landfill, an Arizona gun shop, the cab of a long-haul truck in Iowa, and the stadium of the Cincinnati Ben-Gals cheerleaders. Cheerleaders? Yes. They, too, are hidden America, and you will be amazed by what Laskas tells you about them: hidden no longer.
About the Author
Jeanne Marie Laskas is a columnist for The Washington Post Magazine, where her "Significant Others" essays appear weekly. A contributing writer at "Esquire," she also writes for "GQ," "Allure," "Redbook," "Good Housekeeping," "Health," and "This Old House," She is the author of The Balloon Lady and Other People I Know and We Remember: Women Born at the Turn of the Century Tell the Stories of Their Lives in Words and Pictures. She lives and farms with her husband and daughter, along with their poodle, mutts, mules, sheep, and other animals, at Sweetwater Farm in Scenery Hill, Pennsylvania.
Praise For Hidden America…
"Jeanne Marie Laskas is a reporting and writing powerhouse. With beauty, wit, curiosity, and grace, she doesn't just interview the people who dig our coal and extract our oil, she goes deep into the mines and tundra with them. She goes nationwide to find the hidden soul of America, the people we depend on most but know the least. She tells the story of the United States from deep inside the machinery that makes it work. Hidden America is essential reading."—Rebecca Skloot, author of The Immortal Life of Henrietta Lacks

"In this thoroughly entertaining study of what some people do that other people would never do, journalist Laskas makes her subjects sing. Some homes in on jobs that the rest of us take for granted—or deny exist—interviewing the people who perform and even like onerous tasks: coal miners, Latino migrant laborers, La Guardia air traffic controllers, Arizona gun dealers, Texas ranchers . . . Refreshingly, Laskas eschews sentimentality but imbues her portraits with humanity and authenticity . . . Laskas's depications are sharply delineated, fully fleshed, and enormously affecting."—Publishers Weekly (starred review)

"Jeanne Marie Laskas has spent years finding and listening to the people we can't do without, but sometimes forget are there. What they told her is at once heart-warming, funny, sad, ironic, and, most of all, insightful. She is a wonderful listener who gives us new and better perspective on what keeps America working. A fine piece of reporting and writing – a ride well worth taking."—Bob Schieffer

"It's not a stretch to use the name Studs Terkel in the same sentence with the name Jean Marie Laskas. She's one hell of a journalist, a world-class storyteller who takes us where we may not want to go, then makes us grateful we took the trip. Hidden America is not just a good read, it's an important one."—Linda Ellerbee

"Hidden America is a literary miracle. In effortlessly lucid prose, Jeanne Marie Laskas tells stories that spellbind precisely because they remind us of the center that quietly holds America together. You will fall in love with, want to have a beer with, and maybe shed a tear for, her entire cast of obscure heroes."—Robert Draper, author of Do Not Ask What Good We Do and Dead Certain: The Presidency of George W. Bush

"Jeanne Marie Laskas has for years taken her readers inside the lives of ordinary people with her intimate, insightful journalism. Hidden America is a finely crafted look behind the curtains of everyday life – think Dirty Jobs for the literate set."—Mike Sager, author of Wounded Warriors

Praise for Jeanne Marie Laskas

"A wonderful writer, smart as they come, and a real joy to read."—Annie Dillard

"Laskas is the thinking woman's Erma Bombeck [with] a talent for finding wisdom in everyday life."—Andrea Sachs, Time.com

"Fresh, funny and perceptive, salted with that fine edge of irony and self-deprecation that makes you laugh at her and yourself, and just the basic craziness of her life. She can move you to tears, or make you blow tea out your nose with unexpected laughter."—Tom Schroder, Washington Post

"A formidable reporter and one damn fine writer."—Esquire