Telling the Bees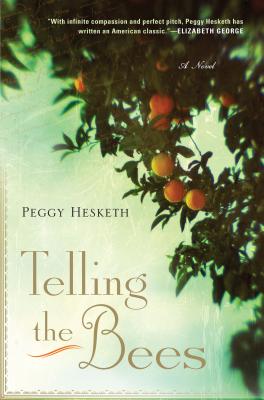 Telling the Bees
Putnam Adult, Hardcover, 9780399159053, 320pp.
Publication Date: March 7, 2013
* Individual store prices may vary.
Buy at Local Store
Enter your zip code below to purchase from an indie close to you.
or
Not Currently Available for Direct Purchase
Description
With echoes of The Remains of the Day, an elderly beekeeper looks back on his quiet life, and the secrets of a woman he never truly knew.
Albert Honig's most constant companions have always been his bees. A never-married octogenarian, he makes a modest living as a beekeeper, as his father and his father's father did before him. Deeply acquainted with the workings of the hives, Albert is less versed in the ways of people, especially his friend Claire, whose presence and absence in his life have never been reconciled.
When Claire is killed in a seemingly senseless accident during a burglary gone wrong, Albert is haunted by the loss, and by the secrets and silence that hovered between them for so long. As he pieces together the memories of their shared history, he will come to learn the painful truths about Claire's life, and the redemptive power of laying the past to rest.
About the Author
A longtime journalist, Hesketh teaches writing and rhetoric at the University of California, Irvine. Telling the Bees is her first novel.
Praise For Telling the Bees…
Praise for Telling the Bees
 
"[A] stately and beautiful novel . . . Only a superhuman reader will be able to resist foraging through the house looking for that half-eaten jar of honey."—Carolyn See, Washington Post
 
"Elegantly crafted . . . While readers are likely to find themselves longing for a plate of buttered toast and honey, there's nothing 'cozy' about Telling the Bees—it's downright gorgeous."—The Christian Science Monitor
 
"Elegiac in its tone, Telling the Bees is a quiet, meditative novel, dressed up as a murder mystery, but more geared towards examining the intricacies of the human condition and the power of secrets when voiced than in identifying who killed Claire. As Albert slowly sifts through his fragile memories of the past, patient readers will be rewarded with a rich story that softly stings and is utterly unforgettable."—BookPage
 
"Reminiscent of Marilynne Robinson's Gilead, Hesketh's debut explores family secrets and end-of-life reflections. The author's exceptional storytelling skills allow us not only to understand Albert's feelings, but to experience those emotions right along with him. Readers in search of a heartfelt, thought-provoking novel will find what they are looking for in this journey through the life of an unassuming apiarist who knows more about his reclusive neighbors than anyone could guess."—Library Journal (starred review)
 
"Elegiac in its tone, Telling the Bees is a quiet, meditative novel, dressed up as a murder mystery, but more geared towards examining the intricacies of the human condition and the power of secrets when voiced than in identifying who killed Claire. As Albert slowly sifts through his fragile memories of the past, patient readers will be rewarded with a rich story that softly stings and is utterly unforgettable."—BookPage
 
"In her invention of the singular Mr. Honig (and his life, from an early age) Hesketh has created a stubborn and enigmatic and duplicitously withholding character whose life story is nonetheless told richly, in turns melancholy, exhilarating, sociological, with a murder mystery and a deep appreciation for the stories we all construct for ourselves and for others."—OC Weekly

"A story of shared history, secrets of omission, and revisited memories, Telling the Bees is nostalgic and hauntingly poetic.  Richly detailed and sparsely populated, Hesketh's debut novel relies on Albert's depth of narration and an enlightening amount of apiology.  Reminiscent of the work of Karen Joy Fowler and Peter Orner, Telling the Bees reminds readers that even quiet hives are deceptively active."—Booklist

"Telling the Bees is a marvel. With infinite compassion and perfect pitch, Peggy Hesketh has written an American classic: the inadvertent examination of a life unlived, told by the 80-year-old beekeeper who didn't live it. It's a wonderful read for anyone who loves a great and unforgettable story told well."—Elizabeth George, New York Times-bestselling author of the Inspector Lynley series
 
"What a wonderful novel!  The voice is so masterfully done, the mysteries of life and death so compellingly evoked.  But best of all is the way Telling the Bees reminds us that even the quietest life will still hold its full measure of drama and passion." —Karen Joy Fowler, New York Times-bestselling author of The Jane Austen Book Club

"In Peggy Hesketh's poignant debut novel, Telling the Bees, the lasting effects of long held secrets is at the core of beekeeper Albert Honig's otherwise quiet world.  In the twilight of his life, Honig is haunted by the past memories of his long-time neighbors. Rich in detail, Hesketh has crafted a thoughtful, compelling story of loss and regret and the unforeseeable consequences that come when the truth is finally revealed.  A wonderful read." —Gail Tsukiyama, author of A Hundred Flowers

"Telling the Bees is a charming tale of a bygone era evoking the power of the past to influence the future. Hesketh's ability to create an evocative narrative will leave readers eager to read more by this talented writer."—Jo-Ann Mapson, author of Solomon's Oak and Finding Casey