The Last Dark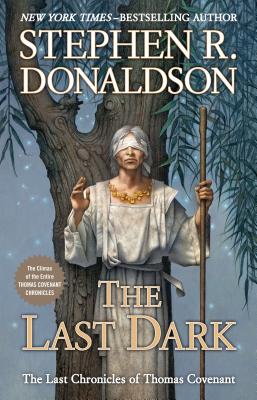 The Last Dark
G. P. Putnam's Sons, Hardcover, 9780399159206, 557pp.
Publication Date: October 15, 2013
* Individual store prices may vary.
Buy at Local Store
Enter your zip code below to purchase from an indie close to you.
or
Buy Here
Description
It will take a long time for fans or critics to digest and appreciate Donaldson's almost 40-year achievement. But in time T he Chronicles of Thomas Covenant will be seen as one of the self-defining works of the third millennium, our equivalent in scope and ambition of earlier epics and fantasies, from Virgil's Aeneid to Tennyson's Arthurian Idylls and Tolkien's Lord of the Rings, the last now a lifetime (Donaldson's own) in the past. -"The Wall Street Journal"
Compelled step by step to actions whose consequences they could neither see nor prevent, Thomas Covenant and Linden Avery have fought for what they love in the magical reality known only as "the Land." Now they face their final crisis. Reunited after their separate struggles, they discover in each other their true power--and yet they cannot imagine how to stop the Worm of the World's End from unmaking Time. Nevertheless they must resist the ruin of all things, giving their last strength in the service of the world's continuance.

About the Author
The author of "New York Times" bestsellers including the Chronicles of Thomas Covenant, Stephen R. Donaldson lives in northern New Mexico. He is also the author of The Man Who series of mystery novels and The Gap Cycle science fiction epic.
Praise For The Last Dark…


"Although richly allegorical, the novel's great strength is the warm humanity of its characters, who distinguish themselves by repeatedly confronting and overcoming their personal frailties. Donaldson's fans will find this fitting finale 36 years in the making." --Publishers Weekly

Praise for FATAL REVENANT:
"Difficult but worthwhile, this complicated and emotional continuation of the Thomas Covenant saga is exactly what Donaldson's fans have been hoping for." --Publishers Weekly



Praise for THE RUNES OF THE EARTH:
"[A] landmark fantasy saga." --Entertainment Weekly



"A reawakening of a classic fantasy saga." --Library Journal



"A trilogy of remarkable scope and sophistication." --Los Angeles Times



"Startlingly original antiheroic fantasy resonating with echoes of both Tolkien and Philip K. Dick." --Publishers Weekly



"An epic with page-turning intrigue." --Detroit Free Press



"Impressive…filled with splendid inventions." --Booklist



"The most important and original work of epic fantasy after Tolkien…Rich in paradox, metaphor and symbolism…Donaldson's writing remains one of the most original and intellectually challenging works to have graced contemporary epic fantasy." --SF Site



"Donaldson has met [readers'] high expectations...you might utter at the book's end: 'I want the next book right now.'" --Detroit Free Press



"Fans can celebrate." --The Kansas City Sta



Praise for THE CHRONICLES OF THOMAS COVENANT:
"A feast for epic fantasy addicts."  --Publishers Weekly



"The most original fantasy since THE LORD OF THE RINGS." --Time Out



"I don't think a books like this come along more than a few times in a lifetime." --Marion Zimmer Bradley