A Woman Like Me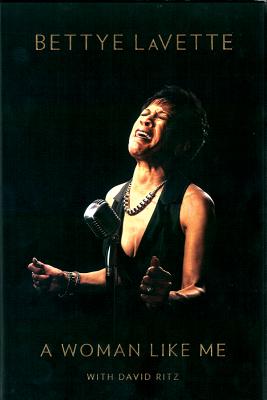 A Woman Like Me
Blue Rider Press, Hardcover, 9780399159381, 262pp.
Publication Date: September 27, 2012
* Individual store prices may vary.
Not Currently Available for Direct Purchase
or
Shop Local
Enter your zip code below to purchase from an indie close to you.
Description
Acclaimed R&B singer Bettye LaVette celebrates her storied career in show business with her stunning memoir, "A Woman Like Me, "and her new album, "Thankful N' Thoughtful. "
As a teenager in Detroit, Bettye LaVette had a hit single with My Man He's a Lovin Man. By the time she was twenty, she had faded back into obscurity and was barely surviving in New York City. For the next forty years, despite being associated with legends such as Aretha Franklin, Otis Redding, Marvin Gaye, and James Brown, she remained relatively unknown outside a circle of devoted fans. Every time it seemed that her dream of stepping into the spotlight was finally coming true, bad luck smashed her hopes, again and again. Then, after a lifetime of singing in clubs and lounges, her unforgettable televised performances at the 2008 Kennedy Center Honors and at President Obama's pre-Inaugural Concert at the Lincoln Memorial in 2009 won her the recognition she had sought for her entire life.
Bettye LaVette's career has been a one-of-a-kind roller-coaster ride through the world of music; it has taken her from the peaks to the pits and back. In this unflinchingly honest memoir, she boldly recounts her freewheeling childhood her parents ran an illegal liquor business out of their living room, which was frequented by some of the top acts of the forties and fifties her short-lived conquest of the R&B world in the 1960s, her decline into poverty and despair, and her recent comeback and career revival, with two Grammy-nominated CDs and numerous appearances on major television talk shows. Poignant, brazen, and fearless, "A Woman Like Me "is a tour de force from one of the most outspoken female performers singing today and she's a force to be reckoned with.
About the Author


David Ritz is the author of the acclaimed novels The Man Who Brought the Dodgers Back to Brooklyn and Blue Notes Under a Green Felt Hat. He is the only four-time winner of the Gleason Book of the Year Award. He's also co-written the memoirs of many celebrities.
Praise For A Woman Like Me…
"Anyone who has ever heard Bettye LaVette's voice will recognize how absurd it is that she may have ever been unsung. This is her own story, in her own words. What else could you need to know?" —Elvis Costello   "From the jump, A Woman Like Me is riveting. Bettye LaVette's story grips you and, like her voice, doesn't let go." —Paul Shaffer
"A Woman Like Me is a candid, offbeat, and gloriously unapologetic memoir by one of the greatest soul singers of all time…. This is narrative writing at its best. LaVette's charismatic style of performance is consistent with her bold and engaging personality on the page; there's never a dull moment here." –Kristin Rawls, The Christian Science Monitor  
  "'Love, Reign o'er Me' is one of the best songs I've written. I never thought anyone could challenge the way Roger Daltrey took the vocals to such a high level of anguish, longing, and epiphany, but Bettye did it. She is a voice from the wilderness. How did we miss her for so long? A Woman Like Me goes some of the way to explain. Now she is here, an extraordinary discovery in a blues voice. We must hang on to her tightly." —Pete Townshend   "Bettye makes no apologies." —Jon Bon Jovi   "LaVette has had quite the colorful life, and she spares no detail or hair-raising experience in A Woman Like Me." —Kia Makarechi, The Huffington Post   "Absolutely engrossing… a wild ride… Despite the numerous setbacks, the unfilled promises from producers—something she terms 'buzzard luck'—LaVette is a survivor and no obstacles is too big for her to surmount. Her honesty is astonishing and if half of what she relates is true then her journey is no less painful than Billie Holiday's or Bessie Smith's…. What is most intriguing about her book is the way she and Ritz mix humor and wit, a kind of comic relief to the moments of sorrow and setback…. Longtime residents of Harlem, Chicago, LA, and Detroit will relish those scenes so memorably evoked by LaVette as she recalls the clubs, incidents, and the gaggle of lovers and mentors…. A woman like Bettye LaVette is like no other." —Herb Boyd, The Network Journal

"A dizzying, careening, nonstop roller coaster ride of an autobiography….An unflinching and uncompromising look at a life lived across the tracks from fame, where the brass ring was always within view but never within her grasp."  –Ben Edmonds, Detroit Free Press

"LaVette's autobiography reads like an R&B song only she could perform—soulful and honest….Her quest serves as one of the most authentic inside looks at the American music industry, and LaVette pulls no punches…LaVette's tale is a treat."  –Publishers Weekly

"A tale of inspiration, frustration and promises deferred...studded with anecdotes about a life making music alongside some of the biggest names in Detroit." –Tris McCall, The New Jersey Star-Ledger

"Powerful."  –The Village Voice

"Hilarious and harrowing … the details of her tale prove so crazed, quotable and laugh-out-loud funny, I found myself dog-earing many more pages in her book than I left pristine. At 66, LaVette has lost none of the muscularity of her instrument. Neither has she lost her trim figure. Her bad-ass spirit, evident on every page, remains even more firmly intact. The most powerful aspect of her story comes in the way she chooses to tell it: with a triumphant cackle."  –Jim Farber, New York Daily News

"The life story of this soul singer—a real survivor, now 66—is destined for the big screen…LaVette's candid story is also a window into the early years of Motown and the Detroit music scene." –Billy Heller, New York Post
"[LaVette's] book is red hot." –Steve Holsey, Michigan Chronicle

"Bettye LaVette's autobiography, A Woman Like Me, proves she's as amazing a storyteller as she is a singer." –Benjamin Boles, Now

"LaVette tells it like it is…. LaVette sings as straightforwardly as she writes, probably because she is from no-nonsense Detroit. Much of the start of her memoir, cowritten with David Ritz, details the Detroit blues scene. There are beautiful cameo portraits of Aretha Franklin, Solomon Burke and Little Esther Phillips along the way." –Charles R. Cross, The Seattle Times

"LaVette is a rhythm and blues survivor of the highest order, someone whose run of 'buzzard luck' as she calls it would have stomped down almost anyone else alive. To read her unrelenting story with every single nitty gritty detail included is to understand what long odds the music business has always been, and also see the high and low points in high-def detail like very few biographies have captured. LaVette is long past shame over some of her escapades, and lucky for us she and co-writer David Ritz capture the arduous journey dead-on, never pulling out the make-up and lip gloss to try and sugarcoat the truth." –Bill Bentley, The Motion Report

"Besides being remarkably frank, A Woman Like Me is a very funny book, rife with one laugh after another." –Lee Hildebrand, San Francisco Chronicle