It's the Middle Class, Stupid!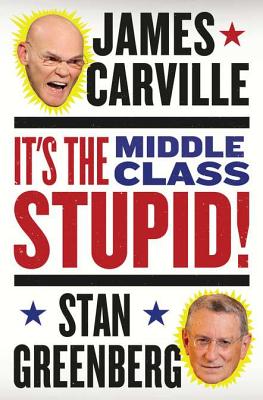 It's the Middle Class, Stupid!
Blue Rider Press, Hardcover, 9780399160394, 336pp.
Publication Date: July 10, 2012
* Individual store prices may vary.
Buy at Local Store
Enter your zip code below to purchase from an indie close to you.
or
Not Currently Available for Direct Purchase
Description
"It's the Middle Class, Stupid "confirms what we have all suspected: Washington and Wall Street have really screwed things up for the average American. Work has been devalued. Education costs are out of sight. Effort and ambition have never been so scantily rewarded. Political guru James Carville and pollster extraordinaire Stan Greenberg argue that our political parties must admit their failures and the electorate must reclaim its voice, because taking on the wealthy and the privileged is not class warfare it is a matter of survival. Told in the alternating voices of these two top political strategists, "It's the Middle Class, Stupid " provides eye-opening and provocative arguments on where our government including the White House has gone wrong, and what voters can do about it.
Controversial and outspoken, authoritative and shrewd, "It's the Middle Class, Stupid "is destined to make waves during the 2012 presidential campaign, and will set the agenda for legislative battles and political dust-ups during the next administration.
About the Author
James Carville is the best-known and most-loved political consultant in American history. He is also a speaker, talk-show host, actor, and author withsix "New York Times" bestsellers to his credit. Part of a large Southern family, he grew up without a television and loved to listen to the stories his mama told. Mr. Carville lives with his wife, Mary Matalin, and their two daughters in New Orleans.


Praise For It's the Middle Class, Stupid!…
Praise for IT'S THE MIDDLE CLASS, STUPID! by James Carville & Stan Greenberg:
"James Carville and Stan Greenberg have written one of the finest—and most eye-opening—examinations of how our economy, even when it's growing, doesn't increase the incomes of middle class Americans or give poor working people the chance to earn them.  Unless it can be reversed, this trend will limit the future for all Americans.  Carville and Greenberg have some good ideas about how to do that and restore the American Dream, making It's the Middle Class, Stupid! essential reading for politicians, policy-makers, and concerned citizens."
–President Bill Clinton

"Political guru James Carville and savvy pollster Stan Greenberg team up for a presidential campaign–oriented book that will be part of the media circus surrounding the election." —Booklist    "For political junkies who enjoy straight-talk policy discussion." —Kirkus    "Top-gun political strategist, ever controversial Ragin' Cajun James Carville and pollster nonpareil Stan Greenberg deliver the message that could keep Obama in office: It's The Middle Class, Stupid! But class warfare isn't the answer (nuts!); it's for both parties to admit their failures and for regular people to get involved in taking back their country from bigwigs in Wall Street and Washington." —Elissa Schappel, Vanity Fair   "For many Democrats [the book] will be the playbook on how to talk to voters about economic issues….Democrats and Republicans alike in the elite and political class should pay heed: these pages contain more than a little truth."—National Journal   "A recipe for President Barack Obama's re-election…..very timely….impressive." —Associated Press