This Moose Belongs to Me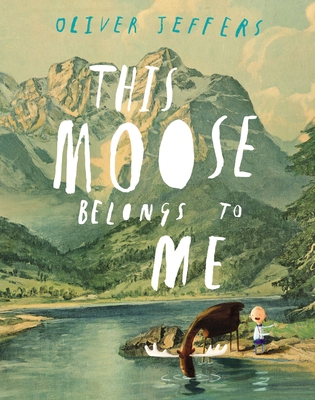 This Moose Belongs to Me
Philomel Books, Hardcover, 9780399161032, 32pp.
Publication Date: November 13, 2012
* Individual store prices may vary.
Buy Now
or
Shop Local
Enter your zip code below to purchase from an indie close to you.
Description
From the illustrator of the #1 smash hit "The Day the Crayons Quit "comes the age-old tale of a boy and his moose . . .
Wilfred is a boy with rules. He lives a very orderly life. It's fortunate, then, that he has a pet who abides by rules, such as not making noise while Wilfred educates him on his record collection. There is, however, one rule that Wilfred's pet has difficulty following: Going whichever way Wilfred wants to go. Perhaps this is because Wilfred's pet doesn't quite realize that he belongs to anyone.
A moose can be obstinate in such ways.
Fortunately, the two manage to work out a compromise. Let's just say it involves apples.
Oliver Jeffers, the bestselling creator of "Stuck" and "The Incredible Book Eating Boy," delivers another deceptively simple book sure to make kids giggle.
About the Author
Oliver Jeffers is an author and illustrator.

Oliver Jeffers is an author and illustrator.
Praise For This Moose Belongs to Me…
It won't take readers long to see that Wilfred has moose problems. He tries hard to make Marcel the moose obey his many rules ("Rule 7 [subsection b]: Maintaining a certain proximity to home"), but Marcel is only vaguely interested in Wilfred. What he really likes are apples. Wilfred's role as moose owner is further cast into doubt when a random old lady greets Marcel as Rodrigo. "You're back!" she cries. (Marcel reacts warmly, but only because she has an apple.) Eventually, Wilfred is able to recognize Marcel's independence; it's a useful and unexpectedly heartwarming lesson in lowered expectations. Nervous Wilfred is dressed in a geeky bowtie and suspenders, while Marcel is the size of a garden shed, with antlers like towel racks. What really ups the ante are Jeffers's (Stuck) incongruously grandiose backdrops. Wilfred's struggle plays out against dawn-kissed mountain ranges, brooding spruces, and sweeping American plains, giving the proceedings an air of faux-solemn dignity that's hilariously at odds with Wilfred's dorky personality. The moose may not belong to Wilfred, but the laughs certainly belong to Jeffers. Ages 3–7. (Nov.) STARRED REVIEW, Publishers Weekly
-Publishers Weekly

"An eye-catching and imaginative book with illustrations that vary from close-ups of the imposing moose against a white background to landscapes of the moose standing tall in his very own Albert Bierstadt painting. Pet lovers and nature lovers alike will enjoy this offbeat and entertaining tale." —Kirkus Reviews


-Kirkus Reviews



 "A spirited, appealing romp that hums with motley vitality and good-natured humor, certain to induce cheers and groans and chuckles galore." –STARRED REVIEW, Booklist


-Booklist

**STARRED REVIEW** Wilfred wants a pet, so when a moose just happens to wander by, the boy claims him as his own and dedicates a lot of time to teaching Marcel the rules of being a good one. They fill their days exploring the countryside and taking long walks. One day, however, Wilfred discovers that his moose might have a whole other life that he knows nothing about. With its classic story of friendship and witty text, this beautiful picture book will appeal to children. The fonts are mixed between standard type and words that appear to be handwritten. Speech bubbles appear on some pages as well, to give voice to Wilfred and several other characters. The illustrations are a combination of oil paint onto old linotype, painted landscapes, and technical enhancements. The characters are whimsical and bright, and the appealing landscapes carry readers along on this journey of two unlikely friends. This Moose Belongs to Me will be adored by younger elementary students, particularly those who have longed to keep a wild animal as a pet.--School Library Journal, starred review

-School Library Journal