Let Them Be Eaten by Bears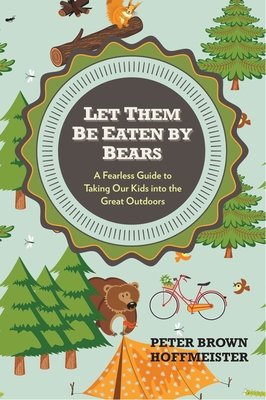 Let Them Be Eaten by Bears
A Fearless Guide to Taking Our Kids Into the Great Outdoors
Perigee Books, Paperback, 9780399161087, 240pp.
Publication Date: May 7, 2013
* Individual store prices may vary.
Buy at Local Store
Enter your zip code below to purchase from an indie close to you.
or
Buy Here
Description
Based on the author's acclaimed Integrated Outdoor Program, LET THEM BE EATEN BY BEARS is Peter Hoffmeister's inspiring guide to getting kids to enjoy and appreciate nature. Drawing from his personal and professional background as an educator, guide, writer, and father, Peter reminds his readers of the adventurous pleasure of the great outdoors. This book teaches why children need nature in their lives, how to begin and continue going on adventures with them, and how to enjoy the process along the way. Combining proof of the need for returning to nature in a country increasingly alarmed by its health with an approachable, fun reintroduction to hiking, camping, and exploring, LET THEM BE EATEN BY BEARS marries the manifesto to the handbook. Founded on the ethics, mantras, and survival prompts of the author's outdoor programme, LET THEM BE EATEN BY BEARS is a natural extension of Richard Louv's LAST CHILD IN THE WOODS. Louv details the problem. Peter explains where and how to go from here. And with rising childhood obesity, ADHD, and technological addiction, this book has never been more timely. Peter has ten years of experience guiding hundred of young people - ages one to nineteen - on rock climbing trips, rafting trips, map and compass courses, in caves, and on backpacking trips, and this book will teach others to do the same. It will help adults - from stay-at-home parents to secondary school teachers to survival course instructors - feel empowered and capable. This is a book about fun versus fear in the natural world, leaving the mobile phone behind, getting dirty, and reading and integrating literature that will inspire readers to go out even more.
About the Author
Peter Hoffmeister is the author of "Let Them Be Eaten By Bears: A Fearless Guide to Taking Young People Into the Outdoors" (Perigee, 2013), and his memoir "The End of Boys" (Soft Skull, 2010), and is a writer for "The Huffington Post", "Climbing" magazine, "Rock and Ice" magazine, and "Gripped" magazine, among others. His fiction collection, "Loss", won the 2006 Oregon Literary Arts Fellowship, and his essay, "How to Break Up With Your Climbing Partner," won the "Rock and Ice" National Bloggers' Brawl. He knows Yosemite like the back of his hand, and is a veteran camper, rock climber, rafter, teacher, and guide.
Praise For Let Them Be Eaten by Bears…
"In an age when the pressures are all against kids spending time outdoors, it takes a determined and resourceful writer to go against this tide. Peter Brown Hoffmeister is one such writer and this book deserves to be read very widely."
—Tristan Gooley, author of The Natural Navigator

"In an age where humans desperately need to get out in nature again, Hoffmeister's practical guidance is a bridge to get us over the gap of our fears and not-knowing. They say 'the knowing is in the doing' - Hoffmeister clearly has the knowing, and his sharing of it will help you into your own doing."
—Evan McGown, co-author of Coyote's Guide to Connecting with Nature

"This book is a how-to, a call to action and a lot of fun...Hoffmeister will make you a believer."
—The Register Guard