Time in a Bottle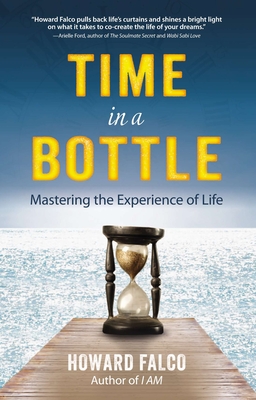 Time in a Bottle
Mastering the Experience of Life
Tarcher, Paperback, 9780399161889, 243pp.
Publication Date: May 1, 2014
* Individual store prices may vary.
Buy at Local Store
Enter your zip code below to purchase from an indie close to you.
or
Buy Here
Description
Are you ready to put the power of time on your side?
Time is perhaps the most precious and highly coveted resource at our disposal.Yet spiritual teacher Howard Falco has encountered hundreds of people whoselimited notions of time have been the primary causeofsuffering and disempowerment intheir lives. This book shows readers how adjusting their perspective on time will empower them to realize their greatest hopes and dreams.
Whether you desire greater abundance, better health, or more meaningful relationships, you have the power to collapse time, thereby actualizing your intentions faster than you ever imagined possible. Falco shows how personal awareness, thought patterns, feelings, and actions affect when our dreams become a reality. By broadening our understanding of time, we open the doors to an ocean of possibility.
About the Author
Howard Falco is a self-empowerment expert and spiritual teacher specializing in self-awareness and the power of the mind as it relates to experience. His previous book, I AM: The Power of Discovering Who You Really Are, focuses on human understanding and potential.
Praise For Time in a Bottle…
Praise for TIME IN A BOTTLE:

"Falco deftly and lucidly navigates readers through the universal and personal nature of time.Time may be "on our side" but it is Falco's keen perception, empathy, and thought-provoking notions of how we can harness the power of time that leads to greater mastery of the experience of life: to realizing our greatest hopes and dreams."
—Julie Clayton, New Consciousness Review

"Time in a Bottle is a must-read for all who desire a life filled with love, satisfaction, and success. Integrating spiritual principles with quantum physics in an easy-to-understand way, Howard Falco pulls back life's curtains and shines a bright light on what it takes to co-create the life of your dreams."
—Arielle Ford, author of The Soulmate Secret and Wabi Sabi Love

"In Time in a Bottle, Howard Falco dares to poke the fearsome dragon of time. The results are a thought-provoking analysis that can enrich the life of anyone seeking greater peace, tranquility, and fulfillment."
—Larry Dossey, M.D., author of Space, Time & Medicine and One Mind: How Our Individual Mind Is Part of a Greater Consciousness and Why It Matters
 
"Discover how to open your mind, expand your awareness, and accomplish all that you desire in life. This book has allowed me to see the endless possibilities in my career and, more important, in the love, happiness, and harmony in my personal life."
—Chris Archer, pitcher for the Tampa Bay Rays
 
"In this inspiring book, self-empowerment expert Howard Falco provides insights and ideas that show you how to fulfill your deepest desires by mastering the way you think about and use your time. If you are ready to reach your goals and achieve greater happiness, make time to read Time in a Bottle!"
—Amanda Owen, author of The Power of Receiving and Born to Receive

"A must-read that transforms the reader from victim to victorious. It is an empowering spiritual guide that, from the inside out, helps the reader to master life."
—Susan Stackpole, host of the radio show YOUnique! Life Starring You
 
"This outstanding book is a significant achievement in spiritual technology, marrying broad-stroke metaphysical truth with practical grounded examples and techniques for healing and transformation."
—Dr. Darren R. Weissman, developer of the LifeLine Technique and author of The Power of Infinite Love & Gratitude
 
"Time in a Bottle offers masterly insight on the nature of how we each create time and also lifts the spirit of the reader to a new level of understanding, awareness, hope, and joy. This book is an ideal place to start looking for your personal answers, and the best time to do that, as always, is right now!"
—Eli Hammer, M.D.
 
"This is a must-read book for anyone looking to live life out loud—inspired and motivated to passionately and purposefully live life as it is meant to be lived, consciously, creatively, and powerfully!"
—The Reverend Dr. Raymont Anderson, life coach, minister, author of Moving Mountains, and regular contributor to Examiner.com
 
"With a remarkable ability to make complex subject matter comprehensible, Howard Falco explains how your beliefs, thoughts, and feelings create your experience of time."
—Jarl Forsman and Steve Sekhon, authors of Wise, Happy and Feeling Good