The Apprentices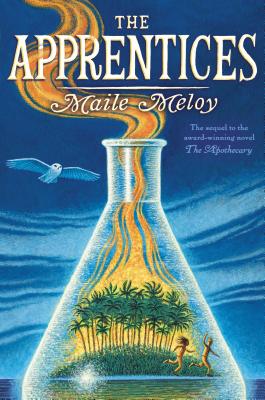 The Apprentices
Putnam Publishing Group, Hardcover, 9780399162459, 407pp.
Publication Date: June 4, 2013
* Individual store prices may vary.
Buy at Local Store
Enter your zip code below to purchase from an indie close to you.
or
Buy Here
Description
It's 1954, and Janie Scott is in boarding school in New Hampshire, trying to make a new life. Two years have passed since she last saw the mysterious apothecary or his defiant son, Benjamin. All she knows is that her friends are out there somewhere, trying to keep the world safe in an age of mounting atomic power. On the other side of the world, Benjamin is treating the wounded in a jungle war, and experimenting with a magical new formula that will let him communicate with Janie across the globe.
But Janie has her own experiment underway, and it's attracting interest from sinister forces. Benjamin calls on their friend Pip for help, and they have to race to find one another, and to unravel the mystery of their powerful new enemies.
A magical new adventure, following Maile Meloy's critically acclaimed novel "The Apothecary," with captivating illustrations by Ian Schoenherr.
About the Author
Maile Meloy is the author of the story collection "Half in Love" and the novel "Liars and Saints, " which was shortlisted for the 2005 Orange Prize. Meloy's stories have been published in "The New Yorker, " and she has received "The Paris Review's" Aga Khan Prize for Fiction, the PEN/Malamud Award, the Rosenthal Foundation Award, and a Guggenheim Fellowship. She lives in California.

Ian Schoenherr grew up near Locktown, New Jersey. He has written and illustrated three books--"Read It, Don't Eat It!"; "Cat & Mouse"; and "Pip & Squeak"--and illustrated numerous books by other authors, including "Little Raccoon's Big Question", by Miriam Schlein. The artist lives in Woodside, New York.
Praise For The Apprentices…
Praise for THE APPRENTICES:
 
Sequel to the New York Times bestseller, THE APOTHECARY!
 
 
STARRED REVIEW FROM PUBLISHERS WEEKLY:
"features the same fun, fast-moving formula as the first book, with charming characters and exciting intrigue mixed with a handful of magic . . . Schoenherr's moody illustrations (not all seen by PW) add to the atmosphere of this magical (in multiple senses) story."
 
 
FROM KIRKUS REVIEWS:
"This . . . well-constructed adventure accurately conveys the geopolitical instability of the era and is leavened with just enough magic, chaste romance and humor to appeal to middle-grade readers through teens.
 
 
FROM BOOKLIST:
"Meloy boldly weaves the disparate strings of the story together in inventive—sometimes breathtaking—ways. More nuanced than the first book, this brings together a large and intriguing cast and explores their knotty relationships . . . the characters become more memorable as the pages fly by."
 
-------------------------------------------------------------------------------------------------------
 
Praise for Maile Meloy's THE APOTHECARY:
 
A New York Times Bestseller
E.B. White Read-Aloud Book Award Winner
2011 Publishers Weekly Best Book of the Year
2011 Wall Street Journal Best of the Year
2011 Chicago Public Library Best of the Best Reading List
 
 
 "Inventive, smart and fun, an absolute delight."
—REBECCA STEAD, Newbery Award-winning author of WHEN YOU REACH ME
 
 
FROM THE NEW YORK TIMES BOOK REVIEW:
"[Meloy] brings to her first book for young readers the same emotional resonance that has won acclaim for her adult fiction, grounding her story in the intricacies of family love, friendship and loyalty blended here with the complicated fluctuations of adolescence."
 
 
FROM THE WALL STREET JOURNAL:
"Maile Meloy's sly commingling of the real and the imaginary make this a witty and entertaining Cold War romp—with a touch of age-appropriate romance."
 
 
FROM USA TODAY:
"The title of Maile Meloy's smartly written, page-turning adventure/fantasy refers to a magical druggist in London in 1952. . . . It's for curious readers who, like Meloy's characters, can make room in their imaginations and 'allow for the possibilities.'"
 
 
STARRED REVIEW FROM PUBLISHERS WEEKLY:
"[A] thoroughly enjoyable adventure, filled with magic, humor, memorable characters, and just a bit of sweet romance. With evocative, confident prose and equally atmospheric spot art from Schoenherr, adult author Meloy's first book for young readers is an auspicious one."
 
 
FROM BOOKLIST:
"Those who know little about blacklisting, the Cold War, and European life after WWII will just have to dive into the fantasy-adventure pool, which runs long and deep. Magic elixirs, transformational disguises, and everyday cunning help Janie, Benjamin, and several scientists elude capture."
 
 
FROM KIRKUS REVIEWS:
"[I]ts blend of history, culture and the anxiety of the time with magical "science" will keep readers just as spellbound as the characters."
 
 
FROM VOYA:
"[G]ood, strong historical fiction spiced with intrigue, magical realism, mystery, suspense, and science…the spies and historical twist give it a lot of flavor.  The illustrations are fluid and delightful."