Painting Your Way Out of a Corner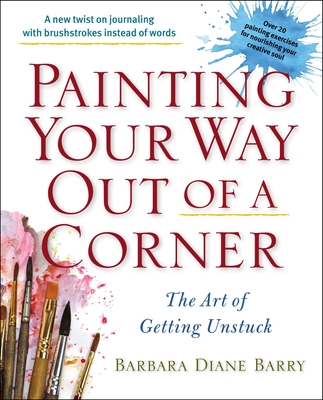 Painting Your Way Out of a Corner
The Art of Getting Unstuck
Jeremy P. Tarcher/Penguin a Member of Penguin, Paperback, 9780399163357, 194pp.
Publication Date: January 16, 2014
* Individual store prices may vary.
Buy Now
or
Shop Local
Enter your zip code below to purchase from an indie close to you.
Description
In the tradition of "The Artist's Way," an exciting program that introduces painting as a jumping-off point for realizing one's full creative potential in all areas of life.
Based on author Barbara Diane Barry's popular courseArt for Self-Discoveryand supported byresearch in psychology and the science of brain function, "Painting Your Way Out of a Corner"guides readers through the process of overcoming blocks and expressing themselves freelyin painting. Through a series of exercises that emphasize improvisation and risk-taking, readers will learn how to quiet their inner critics and strengthen their creativity. The more we learn to play and accept whateverappears on the page, the more we are able to try new things in life.Readers will be inspired by Barry's delightful full-color paintings featured throughout the book.
Praise For Painting Your Way Out of a Corner…
"Barbara Barry provides a practical and workable solution to the most daunting problem for all those who yearn for self-expression through art: How to get started. Her prescriptions for painting as journal-keeping and her imaginative exercises show her skills as a teacher and her respectful empathy for the beginner's fear of the blank page and the inner critic. So often, just getting going is the problem. This book will make you want to jump in."
—Betty Edwards, author of the international bestseller Drawing on the Right Side of the Brain
 
"Much more than just a wonderful guide for learning to paint, this book is a glorious gift to anyone who yearns for a more creative life!"
—Michael J Gelb, author of How to Think Like Leonardo Da Vinci

"I love this book! It supports readers exploring themselves in a symbolic way that results in true transformation. I am already using it with myself and my clients."
—MJ Ryan, author of This Year I Will…
 
 "There are two ways of spreading light—to be the candle, or the mirror that reflects it. This book combines both. When you paint in your journal, you are the candle that creates the light that shines on your inner thoughts and fears, and the journal reflects back this light to make you aware of the creative choices you must make to navigate through the difficulties of life."
—Michael Michalko, author of Thinkertoys and Creative Thinkering

"Barbara Barry has developed an amazing method for opening the creative flow for anyone who wants to dip in and draw from deep water. Writers, poets, painters, chefs, designers, or anyone who wants to work from a creative center can let her be the guide."
—Linda Leonard, Ph.D., author of The Wounded Woman and The Call to Create
 
"Some of my most profound and powerful breakthroughs have happened with paintbrush in-hand standing in front of my own wild, intuitive paintings. That's why I'm so delighted that creative souls now have Barbara Diane Barry's Painting Your Way Out of a Corner to turn to for guidance on their own self-discovery journeys. Barbara's insightful exercises will help you quiet the inner critic, ignite your intuition, and rev up your innovative problem solving abilities. So pick up your paintbrush and give yourself full permission to play!"
—Jennifer Lee, author of The Right-Brain Business Plan