Otis and the Scarecrow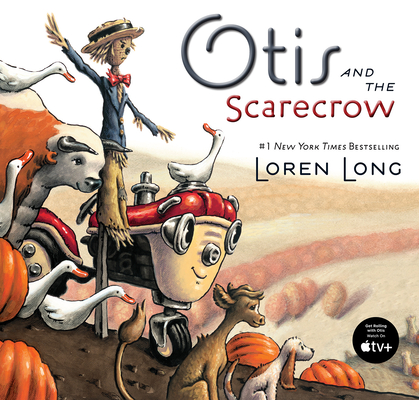 Otis and the Scarecrow
Philomel Books, Hardcover, 9780399163968, 40pp.
Publication Date: August 28, 2014
* Individual store prices may vary.
Buy at Local Store
Enter your zip code below to purchase from an indie close to you.
or
Buy Here
Description
FROM THE #1 BESTSELLING CREATOR OF OTIS AND THE ILLUSTRATOR OF THE LITTLE ENGINE THAT COULD
On the farm where Otis the tractor lives, the farmer has introduced someone new a scarecrow to shoo away the pesky crows. But when Otis and the animals greet the scarecrow with friendly smiles, the scarecrow's frown never leaves his face. So everyone leaves him alone.
Then one day, when a cold autumn rain sets in, Otis and the animals snuggle close and play Otis's favorite game: the quiet game. Otis knows the puppy and ducks can t sit still for long, and soon the farm friends begin to giggle and squirm, feeling warmed by one another's friendship... but on this day, Otis can't seem to take his eyes off the lonely figure in the cornfield.
A deeply resonant book about subtle acts of compassion and standing up for others, featuring everyone's favorite tractor, Otis.
Praise for OTIS AND THE SCARECROW:
"Otis the tractor's goodhearted nature continues to shine in his fifth picture book." Publishers Weekly
Readers will enjoy this sixth tale of an admirable leader who does the right thing with quiet confidence. Booklist
Teachers will see the connection between the lonely scarecrow and the outsider in the classroom and will be able to find many uses for this volume in the curriculum. Fans will enjoy this more cerebral Otis and might build a little empathy along the way. Kirkus Reviews
Loren Long creates a perfect book for the beginning of the school year with "Otisand the Scarecrow."--Examiner.com
About the Author
Loren Long has putt puff puttedy chuffed his way all over the bestseller lists with such titles as Otis, Otis and the Tornado, Otis and the Puppy, An Otis Christmas, Drummer Boy, Toy Boat by Randall de Seve, and Mr. Peabody s Apples by Madonna. He s also had the opportunity to modernize the classic The Little Engine That Could by Watty Piper and had the distinct honor of illustrating Of Thee I Sing by President Barack Obama. A graduate of the American Academy of Art in Chicago, Loren lives in Ohio with his wife, Tracy, and their two sons.You can visit Loren Long at www.OtisTheTractor.com and www.LorenLong.com. Follow @lorenlong"