Seven Deadlies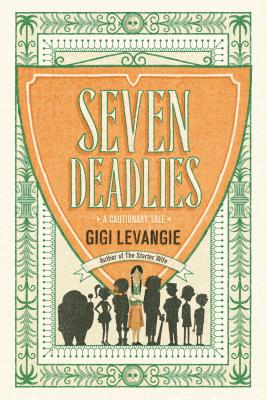 Seven Deadlies
A Cautionary Tale
Blue Rider Press, Hardcover, 9780399166730, 224pp.
Publication Date: October 17, 2013
* Individual store prices may vary.
Buy at Local Store
Enter your zip code below to purchase from an indie close to you.
or
Not Currently Available for Direct Purchase
Description
Dear Bennington College Admissions Officer:
I'm probably not your average applicant from Beverly Hills, CA. And I'm not one to brag, but I'm pretty much the smartest girl in my class at Mark Frost Academy. My grades are excellent. My motivation is high. I don't drink or do drugs or hang out with the bad kids. I'm pretty much all business. My life is not going to end here, in this part of Los Angeles.
I'm going places.
Which brings me to my latest venture: babysitting teenagers.
A few of the moms talked to my mother. You should see them. They gather around her like Bieber fans. She's barely five feet tall, beautiful and regal, a Latina queen.
Their diamond bracelets shimmer. I look at those bracelets and want to eat them.
Where did they go wrong?
"Can Perry help out this weekend? I have to go to New York for fashion week. I have to go to a premiere. My daughter needs help with biology . . . and staying out of my medicine cabinet."
I get paid forty an hour. I have business cards.
My name is Perry Gonzales. The stories you are about to read are true. The names have been changed to protect the not-so-innocent. By the time you're finished, I think you'll appreciate how desperately I need to get out of here.
About the Author
Gigi Levangie Grazer is the author of three prior novels: Rescue Me "(2000), Maneater "(2003), and The Starter Wife "(2006). The Starter Wife "was adapted for an Emmy Award winning USA Network miniseries starring Debra Messing, and later for a television series; Maneater "was adapted for a Lifetime "miniseries starring Sarah Chalke in May 2009. In addition, Gigi wrote the screenplay for Stepmom, "starring Julia Roberts and Susan Sarandon. Gigi s articles have appeared in Vogue, Harper s Bazaar, "and Glamour. "She lives in L.A. with her two children and three miniature dachshunds.

Cecilia Ruiz is an illustrator and graphic designer living and working in New York. She obtained a BFA in Graphic Design from Universidad Iberoamericana in Mexico City and a MFA in Illustration at the School of Visual Arts in New York City. This is her first book.
Praise For Seven Deadlies…
"A sinfully delicious romp through the dazzling devil's playground that is Beverly Hills. Sassy, witty and full of heart, Seven Deadlies is Gigi Levangie at her wicked and hilarious best."
—Maria Semple, author of Where'd You Go, Bernadette

"Seven Deadlies is a fable for our time. Smart, funny, twisted, and surprising, a terrific must read for anyone who has ever wondered what happens behind the gates of Beverly Hills McMansions and if the spoiled and rotten children who live in them ever get their comeuppance. The answer is a resounding and satisfying YES!" 
—Melissa de la Cruz, author of the Au Pairs and Blue Bloods series

"The humor and biting wit of this clever title will appeal to adults who like P. G. Wodehouse."— Booklist

"My advice to you over the next few weeks until school restarts is to buy [Seven Deadlies] for yourself. Announce in a firm tone that you will be off duty for the next few hours, get yourself a drink and pick up the Christmas chocolates. Then disappear and read."—Emma G. Keller, The Guardian (UK)