#Girlboss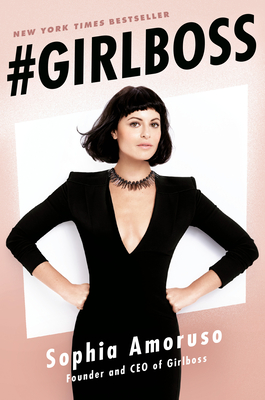 #Girlboss
Portfolio, Hardcover, 9780399169274, 256pp.
Publication Date: May 6, 2014
* Individual store prices may vary.
Buy at Local Store
Enter your zip code below to purchase from an indie close to you.
or
Buy Here
Description
* Coming in 2017 as a Netflix Original Series, starring Britt Robertson.
In the New York Times bestseller that the Washington Post called "Lean In for misfits," Sophia Amoruso shares how she went from dumpster diving to founding one of the fastest-growing retailers in the world.

Sophia Amoruso spent her teens hitchhiking, committing petty theft, and scrounging in dumpsters for leftover bagels. By age twenty-two she had dropped out of school, and was broke, directionless, and checking IDs in the lobby of an art school a job she d taken for the health insurance. It was in that lobby that Sophia decided to start selling vintage clothes on eBay.
Flash forward ten years to today, and she's the founder and executive chairman of Nasty Gal, a $250-million-plus fashion retailer with more than four hundred employees. Sophia was never a typical CEO, or a typical anything, and she's written
#GIRLBOSS
for other girls like her: outsiders (and insiders) seeking a unique path to success, even when that path is windy as all hell and lined with naysayers.
#GIRLBOSS
proves that being successful isn t about where you went to college or how popular you were in high school. It's about trusting your instincts and following your gut; knowing which rules to follow and which to break; when to button up and when to let your freak flag fly.
From the Trade Paperback edition.
About the Author
Sophia Amoruso is the Founder and Executive Chairman of Nasty Gal. A creative visionary and entrepreneur who was recently named by Forbes as Fashion s new phenom, she has become one of the most prominent figures in retail and a cultural icon. She recently founded the #GIRLBOSS Foundation, which awards financial grants to women in the worlds of design, fashion, music, and the arts, to help fund them on their way to becoming GIRLBOSS s themselves. #GIRLBOSS, a New York Times bestseller published in fifteen countries around the world, is Sophia s first book."
Praise For #Girlboss…
PRAISE FOR SOPHIA AMORUSO

"The Cinderella of tech."
--New York Times
 
"Fashion's new phenom."
--Forbes
 
"Starkly brilliant."
--Huffington Post
 
"[Sophia Amoruso] remains true to her vision to inspire and be inspired by cool girls."
--Elle's "One to Watch: 11 Women Who Just Might Change the World"
 
"Nasty Gal clothing company—as red hot as its founder's lipstick...even though owner Sophia Amoruso never set a spike-heeled boot in business school…[It's growth] would be hugely impressive for any 6-year-old start-up. But Amoruso isn't your typical entrepreneur…Amoruso is, employees say, the ultimate nasty gal…In a predominantly male tech industry, Amoruso is gaining notice for being a young female CEO who is doing things her way."
--The LA Times

"There are some CEOs that can make running a company look ridiculously easy. Then there are some who can do it with, well, a certain je ne sais quoi. Sexiness is a subjective measure and its not just about looks. It's also about success, power, ambition, charisma, altruism, fashion sense, and style."
--Business Insider on Naming Sophia Amoruso "The Sexiest CEO Alive"
 
"Sophia Amoruso is building a fashion empire."
--New York's The Cut
 
"It is her fundamental vision and commitment to an authentic sense of style that has resonated so strongly."
--elitedaily.com on "Why Sophia Amoruso is the Sexiest and Smartest CEO."
 
"The Female Tech Superstar"
--addicted2success.com
 
"[Sophia Amoruso] began as a humble Ebay Store and turned her brand into one of the most coveted eCommerce destinations on the planet…Sophia's brand sticks up its middle finger at the corporate world and NastyGal's loyal followers can't get enough of it."
--begoodclothes.com
 
"She doesn't just offer [millenials] clothes—she offers them the whole 'rebel' lifestyle."
--Sarah Owen, WGSN
 
"Sophia Amoruso is pretty awesome."
--styleite.com

"[Sophia Amoruso] is every bit as uncommon as [Nasty Gal's] track record. Never mind the Valley's history of funding misfits like stinky fruitarian Steve Jobs, junk food smacking Marc Andreesen, or socially awkward Mark Zuckerberg. Those misfits all fit in a similar box. Amoruso did not. . . .[Nasty Gal] is that gap between total dork and together, rich cheerleader where the bulk of girls who want to think for themselves but also be cool and accepted live."
—PandoDaily