#Girlboss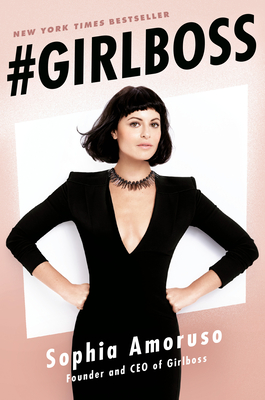 #Girlboss
Portfolio, Hardcover, 9780399169274, 256pp.
Publication Date: May 6, 2014
* Individual store prices may vary.
Buy Now
or
Shop Local
Enter your zip code below to purchase from an indie close to you.
Description
THE RUNAWAY NEW YORK TIMES BESTSELLER
The first thing Sophia Amoruso sold online wasn tfashion it was a stolen book. She spent her teenshitchhiking, committing petty theft, and dumpsterdiving. By twenty-two, she had resigned herself toemployment, but was still broke, directionless, andworking a mediocre day job she d taken for thehealth insurance.
It was there that Sophia decided to start sellingvintage clothes on eBay. Eight years later, she is thefounder, CEO, and creative director of Nasty Gal, a $100 million plus online fashion retailer withmore than 350 employees. Sophia's never been atypical CEO, or a typical anything, and she's written#GIRLBOSS for outsiders (and insiders) seekinga unique path to success, even when that path iswinding as all hell and lined with naysayers.
#GIRLBOSS includes Sophia's story, yet isinfinitely bigger than Sophia. It's deeply personalyet universal. Filled with brazen wake-up calls( You are not a special snowflake ), cunning andfrank observations ( Failure is your invention ), and behind-the-scenes stories from Nasty Gal smeteoric rise, #GIRLBOSS covers a lot of ground.It proves that being successful isn t about how popularyou were in high school or where you went tocollege (if you went to college). Rather, success isabout trusting your instincts and following your gut, knowing which rules to follow and which to break.
A #GIRLBOSS takes her life seriously without taking herself too seriously. She takes chances and takes responsibility on her own terms. She knows when to throw punches and when to roll with them. When to button up and when to let her freak flag fly.
As Sophia writes, I have three pieces of advice I want you to remember: Don t ever grow up. Don t become a bore. Don t let The Man get to you. OK? Cool. Then let's do this.
About the Author
Sophia Amorusoturned her hobby selling vintage clothing on eBay into Nasty Gal, one of the fastest growing companies in America. Her rise has been covered by major media likeThe New York Times, Forbes, Fortune, Inc., andThe Wall Street Journal, and she has a devoted following on Twitter, Facebook, and Instagram.
Praise For #Girlboss…
PRAISE FOR SOPHIA AMORUSO

"The Cinderella of tech."
--New York Times
 
"Fashion's new phenom."
--Forbes
 
"Starkly brilliant."
--Huffington Post
 
"[Sophia Amoruso] remains true to her vision to inspire and be inspired by cool girls."
--Elle's "One to Watch: 11 Women Who Just Might Change the World"
 
"Nasty Gal clothing company—as red hot as its founder's lipstick...even though owner Sophia Amoruso never set a spike-heeled boot in business school…[It's growth] would be hugely impressive for any 6-year-old start-up. But Amoruso isn't your typical entrepreneur…Amoruso is, employees say, the ultimate nasty gal…In a predominantly male tech industry, Amoruso is gaining notice for being a young female CEO who is doing things her way."
--The LA Times

"There are some CEOs that can make running a company look ridiculously easy. Then there are some who can do it with, well, a certain je ne sais quoi. Sexiness is a subjective measure and its not just about looks. It's also about success, power, ambition, charisma, altruism, fashion sense, and style."
--Business Insider on Naming Sophia Amoruso "The Sexiest CEO Alive"
 
"Sophia Amoruso is building a fashion empire."
--New York's The Cut
 
"It is her fundamental vision and commitment to an authentic sense of style that has resonated so strongly."
--elitedaily.com on "Why Sophia Amoruso is the Sexiest and Smartest CEO."
 
"The Female Tech Superstar"
--addicted2success.com
 
"[Sophia Amoruso] began as a humble Ebay Store and turned her brand into one of the most coveted eCommerce destinations on the planet…Sophia's brand sticks up its middle finger at the corporate world and NastyGal's loyal followers can't get enough of it."
--begoodclothes.com
 
"She doesn't just offer [millenials] clothes—she offers them the whole 'rebel' lifestyle."
--Sarah Owen, WGSN
 
"Sophia Amoruso is pretty awesome."
--styleite.com

"[Sophia Amoruso] is every bit as uncommon as [Nasty Gal's] track record. Never mind the Valley's history of funding misfits like stinky fruitarian Steve Jobs, junk food smacking Marc Andreesen, or socially awkward Mark Zuckerberg. Those misfits all fit in a similar box. Amoruso did not. . . .[Nasty Gal] is that gap between total dork and together, rich cheerleader where the bulk of girls who want to think for themselves but also be cool and accepted live."
—PandoDaily