The Last Magazine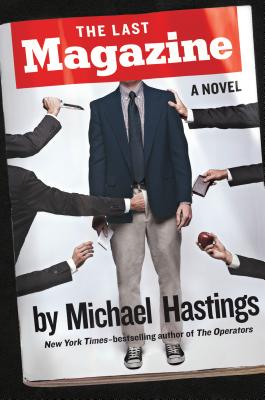 The Last Magazine
Blue Rider Press, Hardcover, 9780399169946, 336pp.
Publication Date: June 17, 2014
* Individual store prices may vary.
Shop Local
Enter your zip code below to find indies closest to you.
Description
The year is 2002. Weekly newsmagazines dominate the political agenda in New York and Washington. A young journalist named Michael M. Hastings is a twenty-two- year-old intern at "The Magazine," wet behind the ears, the only one in the office who's actually read his coworker's books. He will stop at nothing to turn his internship into a full-time position, and he's figured out just whom to impress: Nishant Patel, the international editor, and Sanders Berman, managing editor, both vying for the job of editor in chief. While Berman and Nishant try to one-up each other pontificating on cable news, A. E. Peoria--the one reporter seemingly doing any work--is having a career crisis. He's just returned from Chad, where, instead of the genocide, he was told by his editors to focus on mobile phone outsourcing, which they think is more relevant. And then, suddenly, the United States invades Iraq--and all hell breaks loose. As Hastings loses his naivete about the journalism game, he must choose where his loyalties lie--with the men at "The Magazine" who can advance his career or with his friend in the field who is reporting the truth.
"The Last Magazine" is the debut novel from Michael Hastings, discovered in his files after his untimely death in June 2013. Informed by his own journalistic experiences, it is wickedly funny, sharp, and fast-paced: a great book about print journalism's last glory days, and a compelling first novel from one of America's most treasured reporters.
About the Author
Michael Hastings (1980 2013) spent two years reporting on Iraq and worked for "Newsweek" starting in 2002. He won the 2010 George Polk Award for magazine reporting, and at the time of his death, he was writing about politics for the news Web site BuzzFeed.
Praise For The Last Magazine…
"Hastings (The Operators, 2012, etc.) was one hell of a journalist, covering wars and geopolitical strife for venues like Rolling Stone and BuzzFeed. As it turns out, he would have made a fine novelist had he not died in a car accident in 2013. This "secret" novel was resurrected from his files by his widow, Elise Jordan; it's a messy, caustic and very funny satire. His protagonist is a young journalist also named Mike Hastings, who has just landed his first job at The Magazine in the dying days of traditional journalism. In wry metacommentary scattered throughout the text, the character Mike—who claims he's the one writing this book—reflects on just what it is he's writing. "Maybe I'm talking genres, and maybe the genre is corporate betrayal," he says. "Including the big decision that the entire media world is so interested in: Who and what is left standing?" Hastings, the author, tells the story of how Mike makes the journey from ambitious young man to cynical hack partially by showing us Mike's new friend A.E. Peoria, a classic old-school journalist who fuels his brilliant war reporting with alcohol and drugs and transvestite hookers. In the crevasse between his sanitary cubicle and Peoria's lewd adventures, our hero is also tracking the war of career strategy between his managing editor, Sanders Berman, and the international editor, Nishant Patel, whose favor Mike is carefully currying. Hastings chooses the start of the Iraq War to disrupt Mike's burgeoning career path. "There's war in the backdrop, looming and distant and not real for most of these characters, myself included," Mike says. In a way, the book reflects Hastings' career arc, from unpaid intern at Newsweek to becoming one of the essential war correspondents of his generation. A ribald comedy about doing time in the trenches and the bitter choices that integrity demands."--Kirkus
"That voice. That witty, subversive voice we thought we'd lost, is back for one last romp. Hastings decodes the culture even more incisively in fiction, with wild bursts of imaginative mischief. So damn funny."—Dave Cullen, New York Times bestselling author of Columbine
Sunday, Jun 15, 2014
When Michael Hastings died, he was known as a reporter. The Last Magazine, just published posthumously, proves him a novelist as well. NPR's Rachel Martin discusses it with his widow, Elise Jordan. More at NPR.org