Through the Flames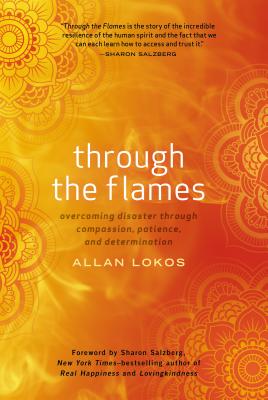 Through the Flames
Overcoming Disaster Through Compassion, Patience, and Determination
Tarcherperigee, Hardcover, 9780399171802, 272pp.
Publication Date: February 5, 2015
* Individual store prices may vary.
Buy at Local Store
Enter your zip code below to purchase from an indie close to you.
or
Buy Here
Description
After miraculously surviving a plane crash in Myanmar, Allan Lokosshareswhat his long and painful recovery process is teaching himabout humanity's ability tosurvive and even thrive in the face of suffering.
InThrough the Flames, Allan Lokos tells the terrifying story of being on board a plane on Christmas Day with his wife, Susanna, when it crashed and exploded in flames. Lokos was severely burned in the accident, and in the days and weeks following the crash, Susanna was told by the many doctors who examined Lokos that he would not survive.
As founder and guiding teacher of the Community Meditation Center in New York City, Lokos had spent decades cultivating compassion and non-attachment.Since the plane crash, hisBuddhist practice has been mightily tested. In this inspiring account of his against-all-odds recovery, Lokos uses his experience as a windowthrough which toexamine thechallengeof human suffering in general and addressesthe question of how we can thrive in the midst of pain and uncertainty.
About the Author
Allan Lokos is the founder and guiding teacher of the Community Meditation Center located on New York City s Upper West Side. He is the author of Patience: The Art of Peaceful Livingand Pocket Peace: Effective Practices for Enlightened Living. His writing has appeared in The New York Times, Tricycle Magazine, The Huffington Post, and www.Beliefnet.com."