Nightfall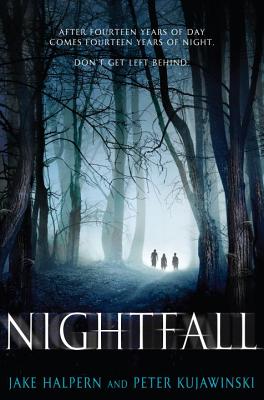 Nightfall
G.P. Putnam's Sons Books for Young Readers, Hardcover, 9780399175800, 368pp.
Publication Date: September 22, 2015
* Individual store prices may vary.
Buy at Local Store
Enter your zip code below to purchase from an indie close to you.
or
Buy Here
Description
The dark will bring your worst nightmares to light in this gripping and eerie survival story, perfect for fans of James Dashner and Neil Gaiman.
On Marin's island, sunrise doesn t come every twenty-four hours it comes every twenty-eight "years." Now the sun is just a sliver of light on the horizon. The weather is turning cold and the shadows are growing long.
Because sunset triggers the tide to roll out hundreds of miles, the islanders are frantically preparing to sail south, where they will wait out the long Night.
Marin and her twin brother, Kana, help their anxious parents ready the house for departure. Locks must be taken off doors. Furniture must be arranged. Tables must be set. The rituals are puzzling bizarre, even but none of the adults in town will discuss "why" it has to be done this way.
Just as the ships are about to sail, a teenage boy goes missing the twins friend Line. Marin and Kana are the only ones who know the truth about where Line's gone, and the only way to rescue him is by doing it themselves. But Night is falling. Their island is changing.
And it may already be too late.
About the Author
Jake Halpern is a journalist and author born in 1975. His book, "Braving Home" was a main selection for the Book of the Month Club by Bill Bryson and was a Library Journal Book of the Year. He is a contributor to NPR's All Things Considered and This American Life. He has written for The New York Times Magazine, The New Yorker, The Wall Street Journal, Sports Illustrated, The New Republic, Slate, Smithsonian, Entertainment Weekly, Outside, New York Magazine, and other publications. He is a fellow of Morse College at Yale University, where he teaches a class on writing.

When he isn't writing, Peter is a Foreign Serice Officer with the U.S. Department of State. Over the last ten years, he's lived in Israel, Haiti, and France. Currently, he is assigned to the U.S. Mission to the United Nations in New York.Peter attended both the Bread Loaf Writers' Conference and the Iowa Writers' Workshop and has published commentary in the International Herald Tribune. He lives in Brooklyn, NY.