The Greatest Game Ever Played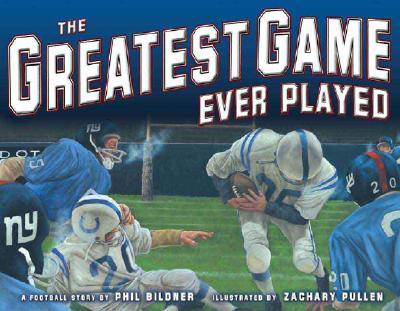 The Greatest Game Ever Played
Putnam Publishing Group, Hardcover, 9780399241710, 40pp.
Publication Date: August 3, 2006
* Individual store prices may vary.
Buy at Local Store
Enter your zip code below to purchase from an indie close to you.
or
Buy Here
Description
The 1958 NFL championship game is known to football fans as the "Greatest Game Ever Played." Featuring gridiron legends like Johnny Unitas, Frank Gifford, and Vince Lombardi, the Game marked the beginning of America's infatuation with professional football.
Now, Phil Bildner tells a heartwarming father-and-son story against the backdrop of this historic moment.When the New York Giants baseball team moves to San Francisco, young Sam discovers the other New York Giants the football Giants. He convinces his skeptical Pop to come with him to the Game, and as Johnny Unitas engineers Baltimore's legendary comeback, Sam and Pop rediscover the joy of rooting on their heroes together.
About the Author
Phil Bildner s first picture book, Shoeless Joe & Black Betsy, about baseball legend Shoeless Joe Jackson, won the Texas Bluebonnet Award. Since then, he has written several more picture books about sports, including The Shot Heard Round the World and The Turkey Bowl. Visit him online at www.philbildner.com. Zachary Pullen s humorous caricatures have been seen in dozens of publications, including The New York Times Book Review and Sports Illustrated. His first picture book, The Toughest Cowboy, received a starred review in School Library Journal, stating Tall tales this enjoyable are hard to find. You can see more of Zak s artwork at www.zacharypullen.com."
Praise For The Greatest Game Ever Played…
"Deftly blending surefire ingredients nostalgia, father-son bonding and on-field action Bildner's (Shoeless Joe & Black Betsy) story tells of the 1958 championship NFL game between the New York Giants and the Baltimore Colts, played at Yankee Stadium. But before kickoff, the author provides plenty of compelling pre-game background. After Sam's father loses his factory job, he finds new work with longer hours, and he and his son can no longer attend the games of their beloved New York Giants baseball team. Then comes the devastating news that the Giants are relocating to California. Sam, who sells newspapers at a local store, begins reading about the "other" New York Giants and follows their games on the radio, but Pop appears to have no interest in football. When Sam's boss must let him go, he hands the lad tickets to the championship game, and thus treats father and son to the sports event of a lifetime (despite the fact that the Giants end up losing in sudden-death overtime). Sam also discovers that his father knows far more about these Giants than he has let on. Bildner's informative afterword emphasizes the significance of this game in football history, especially its role in kicking the sport into the national spotlight. Pullen (The Toughest Cowboy) nicely showcases the big names of the era (Unitas and Berry, Gifford and Huff, etc.). An intriguing balance of realism and caricature, his artwork scores a win, especially with its evocations of the ingenuous protagonist's profound emotions." —Publishers Weekly

"For years, professional baseball was the prime sport occupying the national interest of devoted fans. The New York Giants ruled the scene. But when the Giants baseball team moved to California, a great opportunity presented itself. Pro football, a less popular sport at the time, squeezed into the vacant spot and eased its way into the hearts of the television-viewing audience. The Greatest Game Ever Played spins a touching story of a father's unwillingness to accept the sport of football replacing his beloved baseball team, and his son's desire to continue sharing his time and fascination of this sport with his dad. This touching, heartwarming story marks the first ever NFL championship game between the Baltimore Colts and the New York Giants football teams played on December 28, 1958, resulting in sudden-death overtime. It is still referred to as the greatest game ever played. But what's more important is that it also weaves the touching story of a son's reluctance to give up his time with his father and his father's rediscovery of the joys of sharing this sport with his son. The marvelous illustrations are a study in expressions and mannerisms right down to the steam coming from breaths in the cold air. A great book for fathers to share with their kids." —Children's Literature

"Gr 1-5-This picture book recounts the exciting 1958 NFL championship game as viewed by a young fan and his father. It's been a tough year. Their beloved New York Giants baseball team moved to San Francisco. Pop lost his job; though he's found another, he's working long hours, and Sam misses the time they used to spend together. Even Sam has lost his job selling newspapers, but, as a parting bonus, his boss gives him tickets to the big game between the New York Giants and the Baltimore Colts. Pop declares that he's not interested in football, but as they watch the action on the field, the two are drawn into the thrilling contest. Even as they root for the home team, they can't help admiring the gritty courage of the rival quarterback, Johnny Unitas, who leads the Colts' come-from-behind victory. Pullen's oil paintings capture the tumultuous action and the fans' enthusiastic response. The comically exaggerated facial expressions balance the story's nostalgic mood. An author's note adds facts and helps sort out the game's significance. This is an engaging tale, well told, and a warm portrayal of the bond between sports-loving fathers and sons." —School Library Journal

"A lad and his pop find a way to renew their sports bonding after their favorite baseball team moves away in this engagingly illustrated tribute to a legendary football game. Sam's disappointment when his father's new job prevents them from going to Giants games together is redoubled by the team's move from New York to Los Angeles. Reluctantly, he starts to follow his town's other Giants, the football team, and when he scores a pair of free tickets to its 1958 championship game with Johnny Unitas's mighty Colts, he drags his stubborn father along. Bildner delivers a sketchy but dramatic account of the now-famous contest, but what comes through most clearly is Sam's delight as his dad's enthusiasm rekindles-a delight enhanced by the wonderfully expressive faces in Pullen's meticulous caricatures. Readers will enjoy the period detail, the recognizable-but-even-larger-than-life football heroes on the field and the reminder that shared pleasures are best." —Kirkus Reviews