Artist to Artist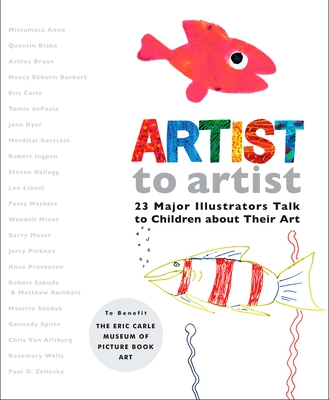 Artist to Artist
23 Major Illustrators Talk to Children about Their Art
Philomel Books, Hardcover, 9780399246005, 105pp.
Publication Date: September 25, 2007
* Individual store prices may vary.
Buy Now
or
Shop Local
Enter your zip code below to purchase from an indie close to you.
Description
This gorgeous collection of art (and the artists behind it) includes work by some of the world's most renowned children's book illustrators Mitsumasa Anno, Quentin Blake, Ashley Bryan, Nancy Ekholm Burkert, Eric Carle, Tomie dePaola, Jane Dyer, Mordicai Gerstein, Robert Ingpen, Steven Kellogg, Leo Lionni, Petra Mathers, Wendell Minor, Barry Moser, Jerry Pinkney, Alice Provenson, Robert Sabuda, Matthew Reinhart, Maurice Sendak, Gennady Spirin, Chris Van Allsburg, Rosemary Wells, and Paul O. Zelinsky.
It's a remarkable and beautiful anthology that features twenty-three of the most honored and beloved artists in children's literature, talking informally to children sharing secrets about their art and how they began their adventures into illustration. Fold-out pages featuring photographs of their early work, their studios and materials, as well as sketches and finished art create an exuberant feast for the eye that will attract both children and adults.
Self-portraits of each illustrator crown this important anthology that celebrates the artists and the art of the picture book. An event book for the ages.
"Proceeds from the book will benefit the Eric Carle Museum of Picture Book Art in Amherst, MA."
About the Author
Gauch, once the littlest dancer herself, is the Editorial Director of Philomel Books.

David Briggs is Emeritus Fellow of Wolfson College, University of Cambridge. He completed his BSc and PhD from Durham University. He has served as Demonstrator in Botany, Botany School, University of Cambridge from 1961 1964; a Lecturer in Botany, University of Glasgow from 1974 2001; and Lecturer in Botany, and Curator of the Herbarium, Department of Plant Sciences at Cambridge University from 1974 2001. He has a lifelong interest in conservation, evolution, genetics and taxonomy. His practical conservation experience includes being a former member of the Wicken Fen Committee of the National Trust and the Milngavie Civic Trust. He was formerly the Chair of Cam Valley Forum - an action group active in the conservation of the Cam, its flood plain and tributaries. He has co-authored Plant Variation and Evolution, also by Cambridge University Press, now in its third edition.


Praise For Artist to Artist…
The title says it all in this anthology of inspirational letters written by 23 contemporary children's-book illustrators to future artists. A multicultural group with amazingly diverse artistic styles, the featured illustrators are some of the best-known and celebrated in the genre, including Mitsumasa Anno, Quentin Blake, Nancy Ekholm Burkert, Eric Carle, Tomie de Paola, Steve Kellogg, Leo Lionni, Petra Mathers, Barry Moser, Jerry Pinkney, Alice Provensen, Maurice Sendak, Chris Van Allsburg, Genady Spirin, Rosemary Wells and Paul O. Zelinksy. Their diversity shines in the text of their letters, in which they share childhood stories, sources of inspiration, views on art, details of how they work and advice on becoming an artist. Opposite each illustrator's letter, a nifty fold-out page presents a montage of "images, art, works-in-progress, photographs of studios and work spaces as well as each artist's wonderful self-portrait." Robert Sabuda and Matthew Reinhart's collaborative self-portrait appropriately resides in one of their pop-ups. Fun to read and view, this anthology is a treasure trove of creative insight and inspiration. Perfect for libraries, art teachers, budding artists and fans of children's-book illustration. —Kirkus, starred review

This anthology celebrates and elucidates contemporary picture-book art, particularly that which has been exhibited at the Eric Carle Museum. An introduction (and entry) is penned by Carle himself; an afterword from the museum director highlights the institution's mission of nurturing young artists. Ashley Bryan, Quentin Blake, Leo Lionni, Alice Provensen, and Gennady Spirin are among the contributors, whose comments are formatted as signed letters, illustrated with childhood photographs. The missives speak of early stirrings of creativity, struggles with school, the importance of mentors, the joy of living a passion. Each artist includes glorious self-portraits and a gatefold page that reveals a marvelous array of sketches, color mixes, and studio scenes. All readers will find something that piques curiosity or provides insight: a page from Tomie dePaola's first picture book (1965); Jerry Pinkney's cowboy model and horse substitute; Paul Zelinsky's sequential panels depicting the Renaissance-inspired technique used for Rapunzel and his portrait. While there is some overlap with Pat Cummings's "Talking with Artists" series (S & S), there are no framing questions, so the illustrators ruminate freely. Sendak writes about finding "a space in the text so that the pictures can do the work." Sabuda (whose portrait is a pop-up) envisions a "dance across the page." Brief biographies and bibliographies conclude the title. A selective work, by nature, results in omissions, and there are some surprising absences. Yet, the end result is a gorgeous, browsable gallery of international treasures, with a behind-the-scenes tour led by the generous and gifted creators themselves. —School Library Journal