What You Wish for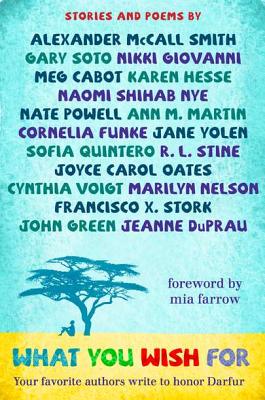 What You Wish for
A Book for Darfur
G.P. Putnam's Sons Books for Young Readers, Hardcover, 9780399254543, 352pp.
Publication Date: September 15, 2011
* Individual store prices may vary.
Shop Local
Enter your zip code below to find indies closest to you.
Description
A stellar collection from Newbery medalists and bestselling authors written to benefit Darfuri refugees
With contributions from some of the best talent writing for children today, "What You Wish For" is a compelling collection of affecting, inspiring, creepy, and oft-times funny short stories and poems all linked by the universal power of a wish - the abstract things we all wish for - home, family, safety and love.
From the exchange of letters between two girls who have never met but are both struggling with the unexpected curves of life, to the stunning sacrifice one dying girl makes for another, to the mermaid who trades her tail for legs, to the boy who unwittingly steals an imp's house, and to the chilling retelling of Cinderella, "What You Wish For" brings together a potent international roster of authors of note to remember and celebrate the Darfuri refugees and their incredible story of survival and hope.
About the Author
Alexander McCall Smith is best known for The No. 1 Ladies' Detective Agency series, beloved New York Times and international best sellers. A practicing professor of medical law and the author of over fifty books, ranging from children's fiction to folktales to The Criminal Law of Botswana, he lives in Edinburgh.



Naomi Shihab Nye is a poet and anthologist and the acclaimed author of Habibi: A Novel and Sitti's Secrets, a picture book, which was based on her own experiences visiting her beloved Sitti in Palestine. Her book 19 Varieties of Gazelle: Poems of the Middle East was a finalist for the National Book Award. She has taught writing and worked in schools all over the world, including in Muscat, Oman. She lives in San Antonio, Texas.