The Case of the Deadly Desperados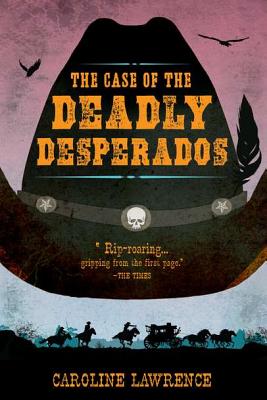 The Case of the Deadly Desperados
Putnam Publishing Group, Hardcover, 9780399256332, 272pp.
Publication Date: February 16, 2012
* Individual store prices may vary.
Buy Now
or
Shop Local
Enter your zip code below to purchase from an indie close to you.
Description
Introducing P.K. Pinkerton, Master of Disguise
When twelve-year-old P.K. (Pinky) Pinkerton's foster parents are murdered by Whittlin' Walt and his gang of ruthless desperados, Pinky goes on the run and is forced into hiding with Ma's priceless last possession: the deed to a large amount of land and silver mines in the Nevada Mountains. But relying on disguises will only keep Pinky hidden for so long, and the desperados are quickly closing in . . .
Narrated by the incredibly lively Pinky, this thrilling high-speed chase through the Wild West will keep readers on the edge of their seats until the very last page.
About the Author
Caroline Lawrence is the author of eleven previous books in the Roman Mysteries series. Born in California, she studied classical archeology at Cambridge University, and Hebrew and Jewish studies at the University of London, where she still makes her home.
Praise For The Case of the Deadly Desperados…
Praise for PK PINKERTON AND THE DEADLY DESPERADOS:
 
Amazon Best Book 2012
Kirkus Best Book 2012
Indie Next Pick
Booklist Top 10 Youth Crime Fiction
Booklist Top 10 Youth Western
 
 
FROM THE NEW YORK TIMES:
"Curious, clever, and very funny…P.K.'s journey is very much a metaphor for an autistic experience. Lawrence powerfully conveys both the difficulties of living with autism and the autistic mind's distinctive strengths. Any child who's felt like a 'Misfit' or 'Freak of Nature' as P.K. does will identify with his despair and cheer him."
 
 
STARRED REVIEW FROM BOOKLIST:
"A winning blend of Wild West and classic detective lore, this first book in the Western Mysteries series is a fast-paced, engrossing read, from beginning to end."
 
 
STARRED REVIEW FROM KIRKUS REVIEWS:
 "[F]ast-paced and deadpan-funny Wild West adventure … A rich vein of wisdom runs through this highly entertaining, swashbuckling series debut."
 
 
FROM PUBLISHERS WEEKLY:
"[E]nergetic, vividly written series opener… this agile story should keep readers' attention from first page to last."
 
 
FROM THE BULLETIN OF THE CENTER FOR CHILDREN'S BOOKS:
"Wild chases, wilder disguises, goofy humor, wordplay, a delightfully gruesome end for Whittlin' Walt, and a strong hint of episodes to come all provide a passel of good readin'."
 
 
FROM HORN BOOK:
"[A] bang-up series starter, …[this] strongly voiced account succeeds as a rousing adventure that promises more action in another installment just around the corner."
 
 
FROM VOYA:
"[Q]uick paced and engaging, moving from one escapade to the next without ever slowing down."