Dear Blue Sky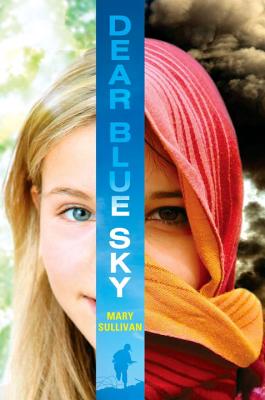 Dear Blue Sky
Nancy Paulsen Books, Hardcover, 9780399256844, 248pp.
Publication Date: August 2, 2012
* Individual store prices may vary.
Buy at Local Store
Enter your zip code below to purchase from an indie close to you.
or
Not Currently Available for Direct Purchase
Description
A timely, eye-opening novel showing how war affects families on both sides

Ever since her brother Sef left for Iraq, Cassie has felt like her life is falling apart. Her parents are fighting over her brother having gone to war. Her smart, beautiful sister is messing up. Her little brother, who has Down syndrome, is pretending he's a Marine. And her best friend no longer has time for her. In her loneliness Cassie turns to a surprising source of comfort: Blue Sky, an Iraqi girl she meets through her blog. The girls begin a correspondence and Cassie learns that when Blue Sky says "I want my life back," she means something profound, as she can no longer venture out in her destroyed city. Cassie takes strength from Blue Sky's courage and is inspired to stop running away from the pain, and to reclaim her life.
About the Author
In her formative years, Mary Sullivan spent a great deal of time drawing. Though she received a BFA from the University of Texas at Austin, she considers herself a self-trained illustrator. Ms. Sullivan has shown her work at galleries and coffees shops in Dallas and Austin. She channels her considerablecreative energy into projectsfor Highlights for Children, Scholastic, Innovative Kids, School Zone, Oxford PressU.K., Pearson and many more. Her first picture book for HMH, Ball, was a 2014 Geisel Honor Book. She lives in Cedar Park, Texas. Visit her website atwww.marysullivan.com.
Praise For Dear Blue Sky…
"The complexity of war is a challenge in a book for middle-schoolers, but Sullivan gets it right. Cassie's family, honest and hurting, behaves in ways disjointed, unpredictable, and also occasionally heroic. . . . Just as in war, Cassie finds there are no easy answers."
-The Horn Book

"Effectively captures the messiness of life in a loving family, when outside-world events intervene. Through it all, Cassie discovers her own strengths and rallies everyone around her. . . . A compassionate portrait of a family struggling with painful changes."
-Kirkus Reviews

"Effectively sketches Cassie's growing confusion as she learns more and cultivates a more balanced view of the war. . . . Doesn't sugarcoat how hard things are for Cassie's family on the home front, yet captures the resilience and hope that keeps them going."
-Publishers Weekly

"Absorbing. . . . Shows how being forced to face the deadly realities of war can deepen a teenager's understanding of life. . . . Cassie discovers both a dark truth about the world and a way to appreciate her own life."
-The New York Times Book Review

"Both timely and timeless. . . . The struggles that Cassie goes through are applicable to any era. Sullivan's prose allows us to feel the bittersweet acceptance and love each family member has for the others, and we leave feeling the same for Cassie as she must feel for her brother: hope for her future well-being and the joy of living in the present."

"Sullivan's first novel for younger readers bears her trademark spare delivery, a good choice for Cassie's tension-filled life. Fully dimensional characterizations bring depth to the story as Cassie matures and begins to understand the hard truths."
-Booklist

"Works on many levels. . . . Cassie is strong and level-headed. . . . Hand this to readers who are interested in family dynamics and who understand what it's like to send a loved one to war."
-Library Media Connection