A Time to Dance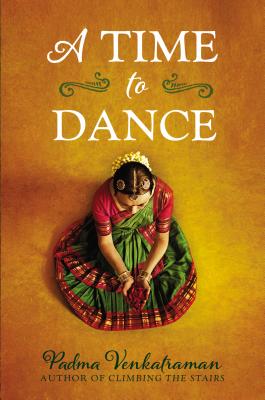 A Time to Dance
Nancy Paulsen Books, Hardcover, 9780399257100, 307pp.
Publication Date: May 1, 2014
* Individual store prices may vary.
Buy at Local Store
Enter your zip code below to purchase from an indie close to you.
or
Buy Here
Description
Padma Venkatraman's inspiring story of a young girl's struggle to regain her passion and find a new peace is told lyrically through verse that captures the beauty and mystery of India and the ancient "bharatanatyam" dance form. This is a stunning novel about spiritual awakening, the power of art, and above all, the courage and resilience of the human spirit.
Veda, a classical dance prodigy in India, lives and breathes dance so when an accident leaves her a below-knee amputee, her dreams are shattered. For a girl who's grown used to receiving applause for her dance prowess and flexibility, adjusting to a prosthetic leg is painful and humbling. But Veda refuses to let her disability rob her of her dreams, and she starts all over again, taking beginner classes with the youngest dancers. Then Veda meets Govinda, a young man who approaches dance as a spiritual pursuit. As their relationship deepens, Veda reconnects with the world around her, and begins to discover who she is and what dance truly means to her.
About the Author
Padma Tiruponithura Venkatraman moved to the United States at the age of nineteen to pursue a graduate degree in oceanography. She was chief scientist on several scientific cruises at the Institute of Meereskunde in Kiel (Germany). Eventually, however, she decided to cut back on her scientific research and devote more time to writing. The result was her debut novel, Climbing the Stairs. Padma currently lives in Rhode Island and works part-time as Director of Graduate Diversity Affairs at the University of Rhode Island as well as Adjunct Faculty at the Graduate School of Oceanography.
Praise For A Time to Dance…
"In poetic imagery as graceful as Veda's dancing, Venkatraman has drawn a vivid picture of contemporary India, and given a gift of faith and hope to all who, like Veda, find their dream slipping away."—Gloria Whelan, author of National Book Award winner Homeless Bird
-Gloria Whelan

* "In Venkatraman's delectably scented, sensual world, lyrically told through verse and through Veda, life is illuminated as a beautiful celebration of doing what comes naturally, as best as one is able. Veda's awakening of her gift throughout her altered body and revolutionary prosthesis provides a spiritually uplifting premise. . . . . The acclaimed author of Climbing the Stairs, Venkatraman deftly shapes readers' comprehension of physical ability into a new arc of understanding. To even have a passing thought that Veda is disabled, rather than differently-abled, would be utter madness. Set against a cardamom, melted butter, and semolina sojji-wafted landscape, the novel's emotional expression and accompanying music impel the reader to share Veda's belief that 'Shiva dances everywhere. In everyone. In everything.'"
-Booklist, STARRED REVIEW

* "Weaves together several themes so elegantly that they become one: Veda's bodily exertion, learning to dance with her prosthetic leg; her process of changing her dance technique to be emotional and spiritual as well as physical; and all the rest of Veda's life, including young love, grief, insecurity and a dawning awareness of class issues. . . . Fluid first-person verse. . . . Veda's no disabled saint; awkwardness and jealousy receive spot-on portrayals. . . .A beautiful integration of art, religion, compassion and connection."
-Kirkus Reviews, STARRED REVIEW

* "The descriptions of contemporary India are beautiful and Venkatraman weaves images so divine that you can see the statues of Shiva, hear the ankle bells in the bharatanatyam dance, and smell the acrid scent of burnt rubber from the accident. Told in verse, this story is magnificently strong as Veda's determination dances off the page and into the reader's heart."
-VOYA, STARRED REVIEW