The Power of Your Child's Imagination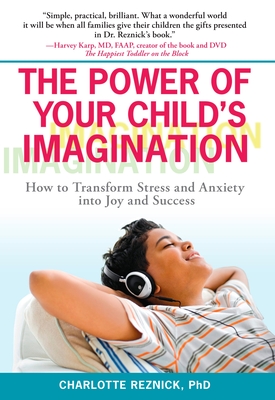 The Power of Your Child's Imagination
How to Transform Stress and Anxiety Into Joy and Success
Perigee Books, Paperback, 9780399535079, 290pp.
Publication Date: August 4, 2009
* Individual store prices may vary.
Buy at Local Store
Enter your zip code below to purchase from an indie close to you.
or
Buy Here
Description
Imagine your frustrated four-year-old calming her own anger with a few simple breaths. Picture your fourth grader visualizing an ice blue pillow to cool his hot headaches. Or your worried eleven-year-old improving her concentration by consulting a personal wizard to help with homework.
The Power of Your Child's Imagination will show you how to empower your child with easy, effective, and creative skills for surviving-and thriving-in a stressful world. This indispensable guide provides nine simple tools to help children cope with stress and anxiety by tapping into their imagination to access their own natural strength and confidence. Dr. Reznick illustrates how each tool can be used every day to deal with problems such as:
* Stress-induced headaches and stomachaches
* Phobias, panic attacks, and social anxiety
* Bed-wetting and sleepless nights
* Separation anxiety and fear of the unknown
* Coping with death, divorce, and other losses
* Hurt, frustration, and anger
* Trouble with schoolwork and concentration
* Sibling rivalry and school-yard squabbles.
Praise For The Power of Your Child's Imagination…
"Simple, practical, brilliant. What a wonderful world it will be when all families give their children the gifts presented in Dr. Reznick's book. Joy, success...and health and happiness are just around the corner!"
--Harvey Karp, M.D., FAAP, creator of the book and DVD, The Happiest Toddler on the Block

"Dr. Reznick offers a revolutionary approach for parents to help their children handle fears, worries, and self-doubt. Her simple, accessible advice allows kids to develop their self-esteem while creatively tackling problems. This book is a must-read for any parent who hopes to arm their child with the tools to handle life's daily struggles."
--Jack Canfield, co-author of The Success Principles (tm) and co-author of the Chicken Soup for the Soul(r) series

"This is a wonderful guide for anyone raising children in a stressful world. I'm looking forward to practicing Dr. Reznick's strategies with my own daughters as they grow and become more aware of life's everyday pressures."
--Mallika Chopra, co-author of 100 Questions From My Child and author of 100 Promises to My Baby

"The way out is through the inside. This is how this profound guide for joy and success begins... right where it should. Charlotte knows kids, and she also knows the power of our own minds to heal ourselves, create images of joy, and become the things we believe we are. Join Charlotte in this journey into a very practical tool set for this age... helping our children to cope with all that is around them. It couldn't have come at a better time!"
--Lee Carroll, co-author of the Indigo Children book series

"As a skilled psychologist, Dr. Reznick draws from her wealth of experience to offer children and parents a treasure trove of skills to relieve stress. She presents well-written, easy-to-follow tools to use in every situation. From visualization techniques to breathing exercises, Dr. Reznick taps the power of a child's imagination to ensure kids achieve peace and success."
--Judith Orloff, M.D., author of Emotional Freedom

"Charlotte Reznick shows how kids can access the power of their imaginations for healing, growth, learning, change and peak performance. Her practical wisdom and considerable experience provide the groundwork and the actual imagery tools to reach all kinds of kids - rich and poor, smart kids and learning disabled, confident and unsure - not to mention their parents, teachers and counselors. This is a wonderful resource!"
--Belleruth Naparstek, LISW, author of Invisible Heroes: Survivors of Trauma and How They Heal; and creator of the Health Journeys guided imagery audio series.