Punch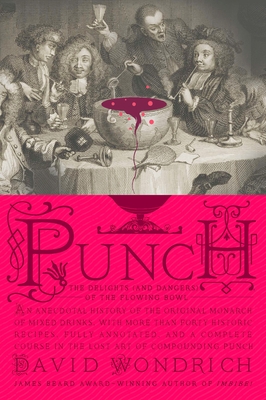 Punch
The Delights (and Dangers) of the Flowing Bowl: An Anecdotal History of the Original Monarch of Mixed Drinks, with More Than Forty Historic Rec
Perigee Books, Hardcover, 9780399536168, 296pp.
Publication Date: November 2, 2010
* Individual store prices may vary.
Shop Local
Enter your zip code below to find indies closest to you.
Description
An Authoritative, historically informed tribute to the punch bowl, by the James Beard Award-winning author of "Imbibe ."
Replete with historical anecdotes, expert observations, notes on technique and ingredients, and of course world-class recipes, "Punch" will take readers on a celebratory journey into the punch bowl that starts with some very lonely British sailors and swells to include a cast of lords and ladies, admirals, kings, presidents, poets, pirates, novelists, spies, and other colorful characters.
It is a tale only David Wondrich can tell-and it is sure to delight, amuse, and inspire the mixologist and party-planner in everyone.
About the Author
David Wondrich is a founding member of The Museum of the American Cocktail and the author of "Punch "and "Imbibe."
Praise For Punch…
"Wildly entertaining and fantastically instructive..."
-Bookforum

"Most punches have fascinating back stories - at least they do when Wondrich is in charge."
-The New York Times Book Review

"Mr. Wondrich's noble effort to restore Punch's good name offers sound advice on the basics of Punch-making along with a variety of vintage recipes."
-The Wall Street Journal

"A lively, fascinating history of punch[...]. Wondrich is a tremendously witty writer."
-The New Yorker

"Wondrich peels punch's image off the sticky fraternity house floor and reinstates it into the more dignified annals of drinking tradition."
-The Boston Globe

"It's fair to say there's nobody in the country who knows more about drinking than David Wondrich."
-New York Magazine

"Punch stays true to the antique, but by no means staid, spirit of its old timey, black-and-white-etching-illustrated subject matter, while somehow managing to keep current, relevant, and fresh. [...] A rollickingly fun read."
-TheKitchn.com

"[Wondrich's] interest in history runs as deep as his thirst for beverage experiences on the banks of the mainstream[...]."
-The New York Times

"Punch lovers are in luck[...]. These aren't the fruity, simplistic punches of recent times. They're complex, subtle concoctions...."
-The Oregonian

"The best part of the book isn't the history-it's the 40-plus detailed recipes of how to make your very own authentic Punch."
-The New York Post