The Year of Learning Dangerously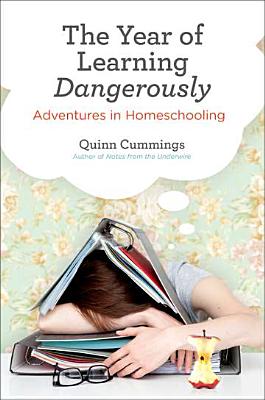 The Year of Learning Dangerously
Adventures in Homeschooling
Perigee Books, Hardcover, 9780399537608, 229pp.
Publication Date: August 7, 2012
* Individual store prices may vary.
Buy at Local Store
Enter your zip code below to purchase from an indie close to you.
or
Not Currently Available for Direct Purchase
Description
A year of homeschooling. What could possibly go wrong?
In this honest and wry memoir, popular blogger, author, and former child actor Quinn Cummings recounts her family's decision to wade into the unfamiliar waters of homeschooling the fastest-growing educational trend of our time -- despite a chronic lack of discipline, some major gaps in academic knowledge, and a serious case of math aversion. (And that's just Quinn.)
Quinn's fearless quest includes some self-homeschooling reading up on education reform, debating the need for socialization, and infiltrating conferences filled with Radical Unschoolers as well as Christian fundamentalists (and even chaperoning a homeschool prom). Part personal narrative, part social commentary, and part how-not-to guide, The Year of Learning Dangerously will make you laugh and make you think. And there may or may not be a quiz at the end. OK, there's no quiz. Probably.
About the Author
Quinn Cummings is a former child actor. Now in her early forties, she is the creator of the HipHugger, a sling-type device for carrying a baby, as well as being a full-time mom. She lives in Los Angeles with her family.
Praise For The Year of Learning Dangerously…
"Not your typical education book (for starters, it's funny)...Cummings remains inquisitive, thoughtful, and a little unsure of herself in a refreshingly humble way--precisely the qualities a parent should look for in a teacher." 
—TIME Magazine

"Hilarious"
—People magazine

"The Year of Learning Dangerously recounts Quinn Cummings's hilarious crusade to find the best educational path for her daughter. Reading her outrageously entertaining observations not only makes me want to homeschool my (nonexistent) children, but it also makes me want to be Quinn's best friend. A must-read."—Jen Lancaster, author of Bitter Is the New Black and Jeneration X 

"A hilarious, friendly companion to charm and entertain parents and educators, whether they homeschool or not. Honest and direct, Cummings is willing to tell all of her experiences: not just the happy sunshine moments, but the brutal realities of educating and raising children."—Lydia Netzer, author of Shine Shine Shine

"If you think homeschooling is crazy, this book might just change your mind. If, after you've read it, you think Quinn Cummings is crazy, you might be correct. Lucky for us, she's the kind of crazy that manages to be insightful and hilarious all at once."—Alice Bradley, co-author of Let's Panic About Babies!

"In The Year of Learning Dangerously, Quinn Cummings dares to go where few parents have gone before. Her adventures in homeschooling are fascinating, loving and most of all hilarious. This book is a great gift to parents and the people that wonder what make them tick. I loved it."—Julie Klam, New York Times bestselling author of You Had Me at Woof