The Introvert's Way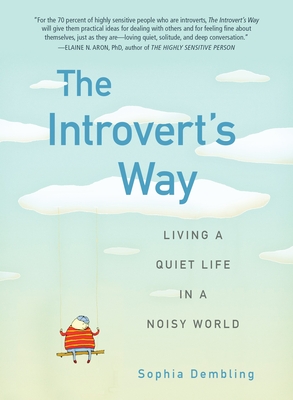 The Introvert's Way
Living a Quiet Life in a Noisy World
Perigee Books, Paperback, 9780399537691, 208pp.
Publication Date: December 4, 2012
* Individual store prices may vary.
Shop Local
Enter your zip code below to find indies closest to you.
Description
For anyone who loved Susan Cain's "Quiet," ""comes this practical manifesto sharing the joys of introversion...
This clever and pithy book challenges introverts to take ownership of their personalities...with quiet strength. Sophia Dembling asserts that the introvert's lifestyle is not "wrong" or lacking, as society or extroverts would have us believe. Through a combination of personal insights and psychology, "The Introvert's Way" helps and encourages introverts to embrace their nature, to respect traits they may have been ashamed of and reframe them as assets.
You're not shy; rather, you appreciate the joys of quiet. You're not antisocial; instead, you enjoy recharging through time alone. You're not unfriendly, but you do find more meaning in one-on-one connections than large gatherings.
By honoring what makes them unique, this astute and inspiring book challenges introverts to "own" their introversion, igniting a quiet revolution that will change how they see themselves and how they engage with the world.
About the Author
Sophia Dembling tient un blog intitule "The Introvert's Corner" pour le magazine Psychology Today. Elle a publie des centaines d'articles et d'essais dans des magazines, des journaux, et sur internet.
Praise For The Introvert's Way…
"In this thought-provoking treatise on the quieter types, Dembling, the blogger behind Psychology Today's "The Introvert's Corner," proposes a wholesale rethinking of what it means to be an introvert…. Dembling's account is refreshingly candid and straightforward—"I am an introvert," she writes, "And there's not a damn thing wrong with me."
-Publishers Weekly
 
"Unlike Quiet, it not only provides scientific and cultural background but also practical tips and a thorough-note of complete understanding of the introvert's nature. An introvert myself, I have never read a book that I have so truly felt myself in." 
-Psych Central
 
"Dembling urges introverts to embrace their need for solitude, reflection, and regeneration with no apologies. It's what makes us who we are."
-Cleveland Plain Dealer