Found in Translation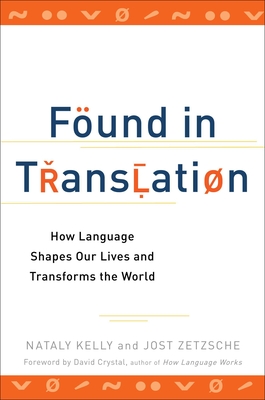 Found in Translation
How Language Shapes Our Lives and Transforms the World
Perigee Books, Paperback, 9780399537974, 270pp.
Publication Date: October 2, 2012
* Individual store prices may vary.
Buy at Local Store
Enter your zip code below to purchase from an indie close to you.
or
Buy Here
Description
Translation. It's everywhere we look, but seldom seen until now. "Found in Translation" reveals the surprising and complex ways that translation shapes the world. Covering everything from holy books to hurricane warnings and poetry to peace treaties, Nataly Kelly and Jost Zetzsche offer language lovers and pop culture fans alike an insider's view of the ways in which translation spreads culture, fuels the global economy, prevents wars, and stops the outbreak of disease. Examples include how translation plays a key role at Google, Facebook, NASA, the United Nations, the Olympics, and more.
About the Author




David Crystal is one of the world's foremost authorities on language, and as editor of the Cambridge Encyclopedia database has used the Internet for research purposes from its earliest manifestations. His work for the technology company AND Classification Data Limited has involved him in the development of an information classification system with several Internet applications and he has extensive professional experience of Web issues. Professor Crystal is author of the hugely successful Cambridge Encyclopedia of Language (1987; Second Edition 1997), Cambridge Encyclopedia of the English Language (1995), English as a Global Language (1997), and Language Death (2000). An internationally renowned writer, journal editor, lecturer and broadcaster, he received an OBE in 1995 for his services to the study and teaching of language. His edited books include The Cambridge Encyclopedia (1990; Second Edition 1994; Third Edition 1997; Fourth Edition 2000), The Cambridge Paperback Encyclopedia (1993; Second Edition 1995; Third Edition 1999), The Cambridge Biographical Encyclopedia (1994; Second Edition 1997) and The Cambridge Factfinder (1994; Second Edition 1997; Third Edition 1998; Fourth Edition 2000).
Praise For Found in Translation…
"Nataly Kelly and Jost Zetzsche have assembled a treasure trove of interesting and entertaining stories to show how translation and interpreting affect all aspects of life. Anyone with an interest in languages – both spoken and signed – will enjoy this book."—Marlee Matlin, Academy Award-winning actress

"A fascinating book about language and the importance of translation. Kelly and Zetzsche demonstrate how technology and translation help build communities and expand the quest for knowledge on virtually every subject." —Anthony Salcito, Vice President of Education, Microsoft 

"Nataly Kelly and Jost Zetzsche have done essential work in capturing the stories behind translation, and how we all experience its value every day. As they observe, 'Right this very minute, translation is saving lives, perhaps even yours.'"—Laura I. Gomez, Localization Manager, Twitter

"Found in Translation is a meditation, an exposé, and practical guidebook to humanity's continued, painstaking ascent of our monumental tower of Babel. Without language diversity, we would be intellectually impoverished, and with it we are enriched. But without translators to interpret and bridge that diversity, we would remain ignorant and isolated, locked each of us in our own native tongue's limited worldview." —K. David Harrison, PhD, Swarthmore College and National Geographic Society

"This is by far the most meaningful book on the subject of translation that I have ever seen. The authors have managed to entertain, inform, and show how translation impacts all aspects of our life, from health to business to entertainment and technology, all supported with real-life examples."—Ghassan Haddad, Director of Internationalization, Facebook

"During times of war, weapons make the difference. During times of peace, battles are won in conference rooms -- and those who can most clearly communicate their messages win. Found in Translation demonstrates to us all that translation and interpretation are the most intelligent weapons for triumphing in commercial, financial, or diplomatic settings."—Olga Cosmidou, Director General for Interpretation and Conferences, European Parliament

"Nataly Kelly and Jost Zetzsche focus in on what is the core issue for diplomats, entrepreneurs, non-governmental organizations and everyday working people alike: language. With information now flowing both globally and instantaneously, translators and interpreters have already ascended into the ranks of the indispensable."—Sunder Ramaswamy, President and Frederick C. Dirks Professor of International Economics, Monterey Institute of International Studies