We Were the Lucky Ones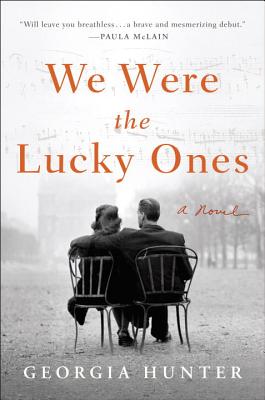 We Were the Lucky Ones
Viking, Hardcover, 9780399563089, 416pp.
Publication Date: February 14, 2017
* Individual store prices may vary.
Buy at Local Store

Enter your zip code below to purchase from an indie close to you.

or

We Were the Lucky Ones">

Buy Here



Description
NATIONAL BESTSELLER
-Reading Georgia Hunter's We Were the Lucky Ones is like being swung heart first into history. . . . A brave and mesmerizing debut, and a truly tremendous accomplishment.- --Paula McLain, New York Times bestselling author of The Paris Wife

NAMED ONE OF GLAMOUR MAGAZINE'S BEST BOOKS TO READ IN 2017
NAMED ONE OF HARPER'S BAZAAR'S BOOKS YOU NEED TO READ IN FEBRUARY
An extraordinary, propulsive novel based on the untold true story of a family of Polish Jews who are separated at the start of the Second World War, determined to survive--and to reunite
It is the spring of 1939 and three generations of the Kurc family are doing their best to live normal lives, even as the shadow of war grows closer. The talk around the family Seder table is of new babies and budding romance, not of the increasing hardships threatening Jews in their hometown of Radom, Poland. But soon the horrors overtaking Europe will become inescapable and the Kurcs will be flung to the far corners of the world, each desperately trying to navigate his or her own path to safety.
As one sibling is forced into exile, another attempts to flee the continent, while others struggle to escape certain death, either by working grueling hours on empty stomachs in the factories of the ghetto or by hiding as gentiles in plain sight. Driven by an unwavering will to survive and by the fear that they may never see one another again, the Kurcs must rely on hope, ingenuity, and inner strength to persevere.
A novel of breathtaking sweep and scope that spans five continents and six years and transports readers from the jazz clubs of Paris to Krakow's most brutal prison to the ports of Northern Africa and the farthest reaches of the Siberian gulag, We Were the Lucky Ones demonstrates how in the face of the twentieth century's darkest moment, the human spirit can find a way to survive, and even triumph.
-A remarkable history . . . extraordinarily moving.- --Publishers Weekly
About the Author
When Georgia Hunter was fifteen years old, she learned that she came from a family of Holocaust survivors. We Were the Lucky Ones was born of her quest to uncover her family's staggering history. Hunter's website, georgiahunterauthor.com, offers a behind-the-scenes glimpse at the extensive research this project has entailed. She lives in Connecticut.