Sour Heart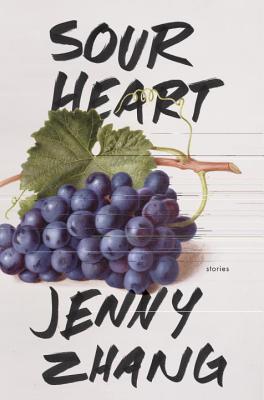 Sour Heart
Stories
Lenny, Hardcover, 9780399589386, 320pp.
Publication Date: August 1, 2017
* Individual store prices may vary.
Buy at Local Store
Enter your zip code below to purchase from an indie close to you.
or
Pre-Order Now
Description
A sly, intimate debut collection that conjures the experience of adolescence through the eyes of Chinese American girls growing up in New York City--for readers of Zadie Smith, Helen Oyeyemi, and Junot Diaz
A stunning exploration of race, class, and identity, Sour Heart establishes Jenny Zhang as a frank and subversive interpreter of the immigrant experience in America. Her stories cut across generations and continents, moving from the fraught halls of a public school in Flushing, Queens, to the riotous streets of Shanghai, China, during the Cultural Revolution of the 1960s. In the absence of grown-ups, latchkey kids experiment on each other until one day the experiments turn violent; an overbearing mother abandons her artistic aspirations to come to America but relives her glory days through karaoke; and a shy loner struggles to master English so she can speak to God.
Narrated by the daughters of Chinese immigrants who fled imperiled lives as artists back home only to struggle to stay afloat--dumpster diving for food and scamming Atlantic City casino buses to make a buck--the seven stories in Sour Heart showcase Zhang's compassion, moral courage, and perverse sense of humor that invokes Portnoy's Complaint. In "Why Were They Throwing Bricks?" a teenager tries to rescue her brother from their eccentric grandmother's smothering affection. In "The Empty the Empty the Empty" a mother's martyrdom breeds an impulse for sadism in her neglected daughter. In "We Love You Crispina" a child reckons with the futility of her love for her desperate parents as they teeter on the brink of disaster. And in "Our Mothers Before Them" the arrival of a beloved uncle reopens long-buried historical traumas.
A pitch-perfect rendering of the exhilarating turbulence of girlhood, Sour Heart is a darkly funny, exquisitely observed, and sometimes uncomfortably honest collection of coming-of-age stories that examine what it means to belong to a family, to find your home, leave it, reject it, and return again.
Advance praise for Sour Heart
"No terrain is more fraught than the inner world of a girl fighting to define herself, and no writer is better suited to serve as our guide than Jenny Zhang. She is the coolest--wielding a discerning eye and wicked wit that will cut you and make you cherish the wound she leaves behind. Sour Heart captures the magnificent mess that is the internal lives of young women seeking place--in their families, their communities, their bodies and, most important, themselves."--Janet Mock, New York Times bestselling author of Redefining Realness
"Jenny Zhang has an uncanny ability to articulate the most confusing, conflicting, elusive thoughts and feelings--the kinds that occur in under a millisecond but secretly rule our lives. It's dazzling to witness until one observation or line of dialogue sends you over the edge into the depths of another person's truth. I emerged from Sour Heart bleary-eyed and in love."--Tavi Gevinson
About the Author
Jenny Zhang is an American writer and poet based in Brooklyn, New York. She is the author of the poetry collection Dear Jenny, We Are All Find and a collection of poetry and essays, The Selected Jenny Zhang.