Lost City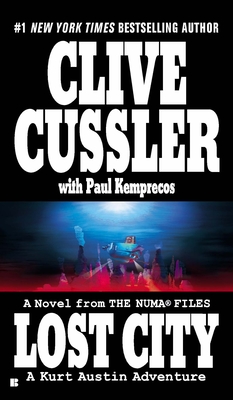 Lost City
Berkley Publishing Group, Mass Market Paperbound, 9780425204191, 515pp.
Publication Date: August 2005
* Individual store prices may vary.
Shop Local
Enter your zip code below to find indies closest to you.
Description
The key to eternal life has been found beneath two thousand feet of icy water in an area known as the "Lost City." To a family of ruthless French arms dealers the Lost City is the key to world domination. To Kurt Austin, leader of NUMA's Special Assignments Team, and his colleague Joe Zavala, it may be their greatest and deadliest challenge of all.
About the Author
est l'auteur de nombreux thrillers et romans d'aventures. C'est en 1973 que parait son premier roman. On y decouvre le heros aventurier qui fera son succes, Dirk Pitt, directeur des projets speciaux de la NUMA, dont Cussler est en realite le fondateur et president. Connu pour ses activites de chasseur d'epaves, il est aussi membre de la Societe Geographique Royale de Londres et du Club des explorateurs de New York.

My fiction-writing career owes it start to the bad navigation of an 18th century pirate. For it was in 1717 that a ship, the Whydah went aground, reportedly carrying a treasure. In the 1980s, three salvage groups went head-to-head, competing to find the wreck. The controversy over the salvage got hot at times and I thought there might be a book in their story. I developed my own detective, an ex-cop, diver, fisherman, and PI named Aristotle "Soc" Socarides. He was more philosophical than hard-boiled. Making his first appearance in "Cool Blue Tomb," the book won the Shamus award for Best Paperback novel. After many years in the newspaper business, I turned to writing fiction and churned out five more books in the series. Clive Cussler blurbed: "There can be no better mystery writer in America than Paul Kemprecos." Despite the accolades, the Soc series lingered in mid-list hell. By the time I finished my last book, I was thinking about another career that might make me more money, like working in a 7-11. Several months after the release of "Bluefin Blues," Clive called and said a spin-off from the Dirk Pitt series was in the works. It would be called the NUMA Files and he wondered if I would be interested in tackling the job. My wife closed the deal when she said: "What else have you got to do?" The answer was "nothing," and I took on the writing of "Serpent" which brought into being Kurt Austin and the NUMA Special Assignments Team. Austin had some carry-over from Soc, and another team member, Paul Trout, had been born on Cape Cod. The book made The New York Times bestseller list, as did every one of seven NUMA Files that followed, including "Polar Shift," which bumped "The DaVinci Code" for first place. I continue to write and am working on the e-book release of my Soc series. Christi and I live on Cape Cod where we live in a circa 1865 farmhouse with two cats. We have three children and seven granddaughters. To learn more about Paul Kemprecos, check out his website at http: //www.paulkemprecos.com/