Just the Sexiest Man Alive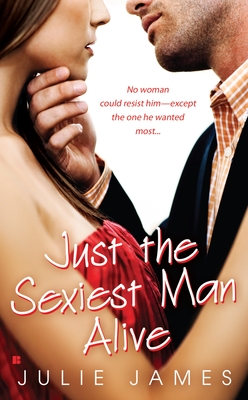 Just the Sexiest Man Alive
Berkley Books, Mass Market Paperbound, 9780425224205, 307pp.
Publication Date: October 1, 2008
* Individual store prices may vary.
Buy at Local Store
Enter your zip code below to purchase from an indie close to you.
or
Buy Here
Description
From the New York Times bestselling Julie James comes this dazzling romance about one of Hollywood's biggest movie stars and the woman who refuses to let him capture her heart. For fans of Susan Elizabeth Phillips and Rachel Gibson.COOL. CALM. COLLECTED...
Nothing fazes Taylor Donovan. In the courtroom, she never lets the opposition see her sweat. In her personal life, she never lets any man rattle her--not even her cheating ex-fiance. So when she's assigned to coach People's -Sexiest Man Alive- for his next big legal drama, she refuses to fall for the Hollywood heartthrob's charms. Even if he is the Jason Andrews.
CONFIDENT. FAMOUS. IRRESISTIBLE...
Jason Andrews is used to having women fall at his feet. When Taylor Donovan gives him the cold shoulder, he's thrown for a loop. She's unlike any other woman he's ever met: uninterested in the limelight, seemingly immune to his advances, and shockingly capable of saying no to him. She's the perfect challenge. And the more she rejects him, the more he begins to realize she may just be his perfect match...
About the Author
After graduating from the University of Illinois College of Law, Julie James clerked for the United States Court of Appeals in Jacksonville, Florida. She then practiced law with one of the nation's largest law firms for several years until she began writing screenplays. She now writes full time and lives in Chicago with her family.
Praise For Just the Sexiest Man Alive…
"Chicagoan Taylor Donovan is driven to succeed, and her track record in defending corporate clients against sexual harassment lawsuits is unsurpassed. On loan to her firm's Los Angeles office, she reluctantly agrees to coach big-name actor and sexy heartthrob Jason Andrews for his upcoming role as a lawyer. His attitude irks her, while her insistence on maintaining a professional distance, in spite of their obvious and mutual physical attraction, intrigues him. James herself is a practicing attorney in both Chicago and L.A., and her familiarity with both the law and the film industry lends credibility to this fast-moving, contemporary romantic comedy between two strong- willed characters." —Booklist

"If you've ever wondered what it is like having the Hollywood spotlight on you, this is the book to read. Each word and situation is lovingly crafted and is, happy to say, perfection. . . . Just The Sexiest Man Alive is a spectacular beginning of what I hope is a stellar career of debut author, Julie James. . . . I'm jumping up and down here asking you not to miss this awesome novel that rightly deserves my Perfect 10 award." —Romance Reviews Today   "Julie James has created a wonderful debut novel. I thoroughly enjoyed the ride that Taylor and Jason took me on... And it is funny! Before I was even 35 pages into the book, Ms. James had me laughing out loud at one particular scene . . . An actual put the book down, laugh out loud, and wipe the tears from my eyes laugh. It is a fabulous book and I highly recommend it to everyone."  —Romance Novel TV   "James['s] . . . familiarity with both the law and the film industry lends credibility to this fast-moving, contemporary romantic comedy between two strong-willed characters." --Booklist   "Just the Sexiest Man Alive is witty, romantic, and so realistic I could have been there witnessing Taylor and Jason's love story unfold. Julie James has a winning debut on her hands that is just an engaging delight to read." —Joyfully Reviewed   "Is anyone able to resist the sexiest man alive? You might be surprised in this funny story. . . . Even in the improbable world of Hollywood's top actors, Julie James introduces believable characters with real motivations behind their actions. With two witty and charming main characters, the dialogue is sure to keep the reader entertained." —Fresh Fiction   "This is an absolutely delightful read. It is clever, witty, and wonderfully romantic. Ms. James uses a sharp sense of humor and intelligence to develop her characters. The story is packed full of wry comebacks and snappy dialogue. . . . This is one book you hate to see end, because the characters are just that much fun." —Coffee Time

"The sparks fly, hilarity is plentiful with all of the one-liners in the story, and underneath it all is a touching look at fame and fortune and how it can become the only reason people get close to a person. Just the Sexiest Man Alive is now residing on my "keeper" shelf. Once you read the exploits of Taylor and Jason, you will feel the same way. Bravo, Ms James." —Affaire de Coeur
  "In her debut novel, James shakes up the world of lawyers and celebrity romance, producing a captivating, beautifully written story. The fireworks between the characters fuel the plot and will keep readers flipping the pages at a dizzying pace." —Romantic Times BookReviews   "Is there any woman alive who hasn't dreamed of landing the absolute sexiest Hollywood star? . . . In Just the Sexiest Man Alive Julie James spins a tale of that dream come true. . . . A larger than life hero and an unlikely heroine whose lives would normally never intersect and yet they turn out to be perfect for each other. . . . If you're looking for a feel-good romance, you can't go wrong with this story." —Queuemyreview   "Ms. James tackles what happens to a person when being told NO becomes something of the past, the obstacles so many stars face with trying to sort out who really cares for them and who is only using them for their own 15 minutes of fame, and how to stay grounded and somewhat normal when the rest of the world puts you on a pedestal with wit, humor and plenty of NO from the heroine. The one-liners will keep you laughing all the way through this book." —Night Owl Romance