Pleasure and Purpose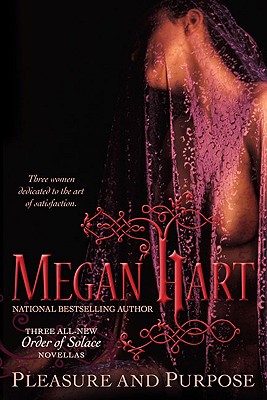 Pleasure and Purpose
Berkley Sensation, Paperback, 9780425229699, 356pp.
Publication Date: September 2009
* Individual store prices may vary.
Buy Now
or
Shop Local
Enter your zip code below to purchase from an indie close to you.
Description
Introducing the women of the Order of Solace?three new novellas from the national bestselling master of erotic romance.
The handmaidens of the Order of Solace are each named for the exquisite service that best reflects their true calling. Their greatest delight is giving pleasure?devoted as they are to fulfilling the desires of the mind, the needs of the soul, and the cravings of the body.
Meet Stillness, called upon to soothe the conscience of a man in need of redemption after a shocking act from his sexual past. Then there's Honesty, whose vow of Solace is to a prince looking for a submissive handmaiden. Instead, he gets the unexpected. And finally, Determination, a handmaiden confronted with a client lost in a haze of random sex and drugs. She has just the plan to literally whip her man into shape.
About the Author
Megan Hart has been writing since she could grip a pencil in her fist. Published in nearly all genres of romance, perhaps most notably erotic, she intends to keep writing stories that make her happy. She lives in the deep, dark woods of Pennsylvania with Superman and two monsters . . . er . . . children.
Lauren Hawkeye is a writer, yoga newbie, knitting aficionado, and animal lover who lives in the shadows of the great Rocky Mountains of Alberta, Canada. She's older than she looks (really!) and younger than she feels (most of the time), and she loves to explore the journeys that take women through life in her stories.
Saranna DeWylde has always been fascinated by things better left in the dark. She wrote her first story after watching The Exorcist at a slumber party. Like all writers, Saranna has held a variety of jobs, from operations supervisor for an airline to call girl's assistant to corrections officer. But, like Hemingway said, "Once writing has become your major vice and greatest pleasure, only death can stop it." So she traded in her cuffs for a full-time keyboard and lives in the Midwest with her very own Prince Charming.