The Train of Small Mercies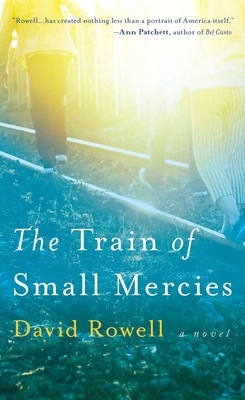 The Train of Small Mercies
Berkley Publishing Group, Paperback, 9780425247457, 314pp.
Publication Date: June 5, 2012
* Individual store prices may vary.
Buy at Local Store
Enter your zip code below to purchase from an indie close to you.
or
Not Currently Available for Direct Purchase
Description
In this stunning debut, David Rowell depicts disparate lives united in the extraordinary days that followed an American tragedy.
On June 8, 1968, as the train carrying Robert F. Kennedy's body travels from New York City to Washington D.C., the nation mourns the loss of a dream. As citizens congregate along the tracks to pay their respects, Michael Colvert, a New Jersey sixth grader, sets out to see his first dead body. Delores King creates a tangle of lies to sneak away from her controlling husband. Just arrived in the nation's capitol to interview for a nanny position with the Kennedy family, Maeve McDerdon must reconcile herself to an unknown future. Edwin Rupp's inaugural pool party takes a backseat to the somber proceedings. Jamie West, a Vietnam vet barely out of high school, awaits a newspaper interview meant to restore his damaged self-esteem. And Lionel Chase arrives at Penn Station for his first day of work a staggering assignment as a porter aboard RFK's funeral train.
About the Author
DAVID ROWELL is an editor at The Washington Post Magazine and has taught literary journalism at American University. He lives in Silver Spring, Maryland, with his wife and sons. This is his first novel.
Praise For The Train of Small Mercies…
Review by Julia Glass, author of Three Junes and The Widower's Tale

Among several impressive debut novels I've read in recent years, David Rowell's is a hands-down standout; in fact, it's hard to believe this book is his first. Like Colum McCann's Let the Great World Spin—equally masterful in its plotting, equally moving in its kaleidoscopic ensemble of perspectives—The Train of Small Mercies takes us to the heart of a quiet but resonant moment in American history and, through that moment, deep into the hearts of numerous characters whose ordinary lives are touched and changed by the events of a single day.

According to an author's note at the end of the novel, Rowell was inspired by the Paul Fusco photographs collected in the book RFK Funeral Train. In 1968, Look magazine assigned Fusco to document Robert Kennedy's funeral in Arlington Cemetery—and to ride the train carrying the senator's body from New York's Penn Station to Union Station in Washington, D.C. En route, Fusco shot more than a thousand photographs of the mourners along the train tracks.

Through the eyes of imagined witnesses to the passage of that train (some intent on paying homage, others there by happenstance or obligation), Rowell creates an intricately linked chain of stories—each one utterly captivating—that coalesce into a vision of America in a year of turbulent change. Yet there is nothing "studied" or stiff about Rowell's authentic portrait of this legendary moment in our history, and his ability to give us a window on that era through a wide range of particular viewpoints is simply stunning, whether he's writing about a black Pullman porter whose first day on the job happens to be on the funeral train, a Vietnam vet struggling to find a new normal after losing a leg, a young Irish nanny who'd been hoping to land a job with the senator's family, or a sixth-grade boy making the best of life after his parents' divorce. All told, Rowell holds the reader in a state of wonder and suspense through half a dozen tales that come together gorgeously as one. The Train of Small Mercies shows us how the tiniest private moments are often inextricable from the most monumental public events, how collectively they define nothing less than history itself. What a generous and versatile imagination Rowell has; I can't wait to see what he does next.

"[Rowell] has created nothing less than a portrait of America itself."—Ann Patchett, author of Bel Canto
"A novel of transcendent literary vision."—Wells Tower, author of Everything Ravaged, Everything Burned "What a tapestry, so evocative!"—Elizabeth Strout, author of Olive Kitteridge "[A] rich and vivid novel." —Ron Carlson, author of The Signal