I Hate Everyone... Starting with Me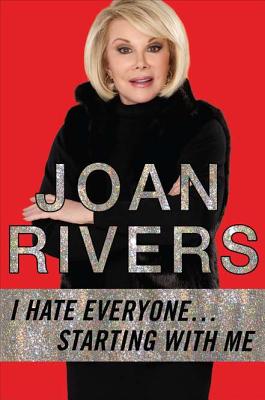 I Hate Everyone... Starting with Me
Berkley Publishing Group, Hardcover, 9780425248300, 242pp.
Publication Date: June 5, 2012
* Individual store prices may vary.
Buy at Local Store
Enter your zip code below to purchase from an indie close to you.
or
Buy Here
Description
How do I love thee? Let me count the ways.
Elizabeth Barrett Browning, 1850
How do I hate thee? How much time do you have?
Joan Rivers, 2012

Joan Rivers is a groundbreaking, award-winning, internationally renowned entertainment goddess. She's also opinionated especially when it comes topeople she hates. Like people who think giving birth is a unique achievement. Or well-adjusted, a.k.a. boring, ex-child stars who don t even havea decent addiction.
With all of her diverse experiences, it stands to reason that Joan hasseen, done, said, and hearda lot of hateful things. Thank god, she took notes.
Here uncensored and totally uninhibited she gives the best of her worst to First Ladies, closet cases, hypocrites, Hollywood, feminists, and overratedhistorical figures. And even when letting herself have it, Joan doesn t hold back in this honest, unabashedly hilarious love letter to the hater in all of us.
About the Author
Joan Rivers, the author of many high-profile bestselling books, is the host of cable television's highly rated E! preshow commentary and fashion reviews for the Academy Award, Golden Globe Award, and Emmy Award telecasts. She can be heard nightly on her syndicated talk-radio show and appears regularly on shows such as Live with Regis & Kathy Lee, Politically Incorrect, and on QVC with her popular jewelry line. She lives in New York City.
Praise For I Hate Everyone... Starting with Me…
"An encyclopedia of kvetches by Joan Rivers, with more punch lines per paragraph than any book I've read in years."—The New York Times
"Often hilarious, often shocking, totally politically incorrect."—Liz Smith
"An entertaining rant on how she hates nearly everything and everyone, especially herself….The only thing missing is the sound of a drum roll and cymbals to feel as though one is sitting in a nightclub watching a live comedy marathon."—Kirkus Reviews
"Joan Rivers is extraordinary, but she's not for the easily offended-or for anyone who gets offended at all."--People
Monday, Jun 11, 2012
Comedian Joan Rivers hates a lot of things. Her new book, I Hate Everyone, Starting With Me, details the things Rivers can't stand, from her appearance to obituaries to younger comedians who steal her gigs. More at NPR.org