Postcards from the Dead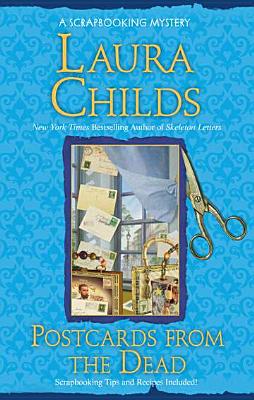 Postcards from the Dead
Berkley Publishing Group, Hardcover, 9780425252758, 323pp.
Publication Date: October 2, 2012
* Individual store prices may vary.
Shop Local
Enter your zip code below to find indies closest to you.
Description
"New Orleans is in the throes of another fantastic Mardi Gras celebration when the party gets crashed by a murderer. Now a scrapbooking sleuth is going to have to stop the partying to catch the killer "
There's a parade rolling through the historic French Quarter, with gigantic floats, silver beads, and dizzying lights and Kimber Breeze of KBEZ-TV is broadcasting live from a small balcony on the fourth floor of the Hotel Tremain, interviewing locals and capturing the spectacle down below. Her next subject will be Carmela Bertrand, owner of Memory Mine scrapbooking shop. Carmela has never been a fan of Kimber, but she isn t about to turn down the chance of good publicity for her shop.
But before Carmela's shop gets its five minutes of fame, a killer slips onto the balcony and strangles Kimber with a cord, leaving her body dangling above the parade. Carmela is horrified, but she quickly discovers the nightmare isn t over. Because someone is now leaving strange postcards at Carmela's shop signed by the dead Kimber. Now Carmela and her friend Ava will have to risk their own necks to find out who's posing as a ghost and to expose a killer
INCLUDES SCRAPBOOKING TIPS.
About the Author
Laura Childs spent many years working in the communications and marketing industry. From desktop publishing for both corporate and socially-minded clients, to programming and creating online Knowledge Management courseware for highly respected authors in their field; Laura has worked in Canada and internationally in a vast array of roles.
In the last 20 years she's provided many of her services and offered consultation from her hobby farm located high in the hills of the Canadian Shield. On the farm, Laura raised her daughter to discover her own talents and interests, be adept at living off the land, and balance it all with compassion, grace, and social responsibility. After 17 years on the farm, mother and daughter now live apart, but near each other, in southern Ontario.
With such diverse interests and life experiences, Laura has turned to utilizing her talents to inspire others, helping each to recognize their potential and rise to their personal best. While Laura has spent many years writing about country living, she now writes and blogs on more personal and accessible topics of health, diet, weight loss and natural foods. She has most recently co-authored a book with her daughter on the weight loss diet they created together, "Low Carb, High Fat, No Hunger Diet" (June, 2014).
Veronica Childs worked alongside her mother from two to fourteen years of age. Together they planted and tended vegetable gardens, raised livestock, revived antique chandeliers, created country living artwork and studied advertising and marketing concepts. For the last six years she has managed or co-managed a clothing store, a beauty counter in a large drug store chain, and a full service salon. She is currently managing a busy salon in a large metropolitan area. At the time of writing, Veronica is 20 years old.
Veronica was home schooled for over half of her education and attended college in Oakville, Ontario. She is an avid reader - from fiction to horror to many non-fiction topics - and was in charge of editing a full length book before she co-authored "The Complete Low Carb High Fat No Hunger Diet" with her mother.
Having traveled to many countries during her early teens, Veronica has seen firsthand the diversity of cultures and their preferred foods. In her next book she plans to incorporate the principles of low carb high fat cooking with more of the spice and flair of a Mediterranean diet.
Praise For Postcards from the Dead…
Praise for the Scrapbooking Mysteries

"A pleasure to read."—Mysterious Reviews

"Scrapbook aficionados rejoice! Ms. Childs creates a charming mystery series with lively, quirky characters and plenty of how-to...Serving up some hors d'oeuvres of murder and mystery, creativity and fashion, she has a winning formula to get even the laziest of us in a scrapbooking mood."—Fresh Fiction

"Cleverly designed…Getting to the climax is fun, as Laura Childs is a superb cozy storyteller with this series and her Tea Shop Mysteries."—Gumshoe Review

"Sure to please cozy fans."—Publishers Weekly

"Brilliant…From the lively imagination of Laura Childs."—St. Paul Pioneer Press

"Fast paced with plenty of action…Terrific."—Midwest Book Review

"An entertaining whodunit...The heroine is a plucky, strong, and independent woman who takes charge when necessary, as she is the original steel magnolia."—Books 'n' Bytes

"These books are so great that I just couldn't put them down. I just can't wait for the next one to be released."—BellaOnline