A Higher Call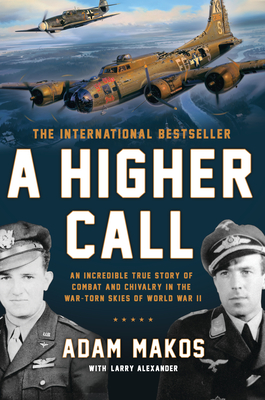 A Higher Call
An Incredible True Story of Combat and Chivalry in the War-Torn Skies of World War II
Berkley Books, Hardcover, 9780425252864, 400pp.
Publication Date: December 19, 2012
* Individual store prices may vary.
Buy at Local Store
Enter your zip code below to purchase from an indie close to you.
or
Buy Here
Description
THE NEW YORK TIMES AND INTERNATIONAL BESTSELLER
December, 1943: A badly damaged American bomber struggles to fly over wartime Germany. At the controls is twenty-one-year-old Second Lieutenant Charlie Brown. Half his crew lay wounded or dead on this, their first mission. Suddenly, a Messerschmitt fighter pulls up on the bomber's tail. The pilot is German ace Franz Stigler and he can destroy the young American crew with the squeeze of a trigger...
What happened next would defy imagination and later be called the most incredible encounter between enemies in World War II.
The U.S. 8th Air Force would later classify what happened between them as top secret. It was an act that Franz could never mention for fear of facing a firing squad. It was the encounter that would haunt both Charlie and Franz for forty years until, as old men, they would search the world for each other, a last mission that could change their lives forever.
INCLUDES PHOTOS
About the Author
Adam Makosis the author of the New York Times and international bestseller A Higher Call. In his work as a journalist, Adam has interviewed countless veterans from WWII, Korea, Vietnam, and present-day wars. In pursuit of a story, he has flown a WWII bomber, accompanied a Special Forces raid in Iraq, and organized an expedition to North Korea in search of an MIA American serviceman. His book, A Higher Call, is studied in the U.S. Army s Command and General Staff College, the J.A.G. Legal Center and School, and appears on reading list of the U.S. Air Force. Adam lives in Denver, Colorado. Larry Alexander is the author of the New York Times bestselling biography Biggest Brother: The Life of Major Dick Winters, the Man Who Led the Band of Brothers. He is also the author of Shadows in the Jungle: The Alamo Scouts Behind Japanese Lines in World War II and In the Footsteps of the Band of Brothers: A Return to Easy Company s Battlefields with Sgt. Forrest Guth. Alexander has been a journalist and columnist for the Intelligencer Journal in Lancaster, Pennsylvania, for nearly twenty years and has won numerous state-level awards for excellence in journalism."
Praise For A Higher Call…
"A top-notch narrative of the unlikely encounter between one of Germany's leading fighter aces, Franz Stigler, and the rookie crew of an American bomber in the frigid skies of Germany in December 1943...Based on thousands of hours of interviews and an evident knowledge of his subject, Makos details the frantic life of the German fighter pilots living on the edge, and the American bomber crews, far from home, fighting to survive...A riveting story of humanity and mercy set against the ghastly backdrop of war."—Publishers Weekly

"This book grips you like a movie. It's part Top Gun, part Valkyrie, and more!"—Marcus Brotherton, author of the New York Times bestseller, We Who Are Alive and Remain

"It is often said that 'war is hell'—and it is—however, this story reveals how the human spirit can shine in the darkest hours. A Higher Call is an eye-opener."—Colonel Charles McGee, Tuskegee Airman, WWII   "'Can good men be found on both sides of a bad war?' The author asks the question and delivers the answer. A powerful, haunting read."—Chuck Tatum, author of Red Blood, Black Sand   "A Higher Call exemplifies beautifully the brotherhood of warriors, and will forever change how you look at World War II."—Eric Blehm, author of the New York Times bestseller, Fearless: The Undaunted Courage and Ultimate Sacrifice of Navy SEAL Team SIX Operator Adam Brown   "From the horrors of the most savage war in history emerges this beautiful story of a brotherhood between enemies. Simply told, splendid, and well worth the read."—Joe Galloway, coauthor of the #1 New York Times bestseller, We Were Soldiers, Once…and Young