Stake & Eggs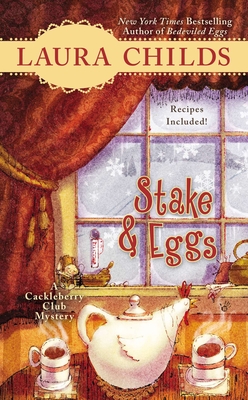 Stake & Eggs
Berkley Books, Mass Market Paperbound, 9780425255575, 291pp.
Publication Date: November 6, 2012
* Individual store prices may vary.
Buy Now
or
Shop Local
Enter your zip code below to purchase from an indie close to you.
Description
"New York Times" bestselling author Laura Childs presents the best way to start your day--with a hearty breakfast and a side of hard-boiled murder.
Suzanne, Toni, and Petra found a second life after losing their husbands--opening their own successful business, the Cackleberry Club cafE. But the three women never expected sleuthing to be the special of the day...
A KILLER HAS THE TOWN WALKING ON EGG SHELLS
When a snowmobile crashes into the woods behind the Cackleberry Club cafE, Suzanne finds her town's most-hated banker beheaded by a wire staked in the snow. Now some of her best customers are prime suspects with a bushel of motives, and the murder investigation is snowballing. An elusive young runaway may be the Cackleberry Club's only way to crack the case...provided Suzanne can keep her head long enough to track down the cold-blooded killer.
About the Author
Laura Childs spent many years working in the communications and marketing industry. From desktop publishing for both corporate and socially-minded clients, to programming and creating online Knowledge Management courseware for highly respected authors in their field; Laura has worked in Canada and internationally in a vast array of roles.
In the last 20 years she's provided many of her services and offered consultation from her hobby farm located high in the hills of the Canadian Shield. On the farm, Laura raised her daughter to discover her own talents and interests, be adept at living off the land, and balance it all with compassion, grace, and social responsibility. After 17 years on the farm, mother and daughter now live apart, but near each other, in southern Ontario.
With such diverse interests and life experiences, Laura has turned to utilizing her talents to inspire others, helping each to recognize their potential and rise to their personal best. While Laura has spent many years writing about country living, she now writes and blogs on more personal and accessible topics of health, diet, weight loss and natural foods. She has most recently co-authored a book with her daughter on the weight loss diet they created together, "Low Carb, High Fat, No Hunger Diet" (June, 2014).
Veronica Childs worked alongside her mother from two to fourteen years of age. Together they planted and tended vegetable gardens, raised livestock, revived antique chandeliers, created country living artwork and studied advertising and marketing concepts. For the last six years she has managed or co-managed a clothing store, a beauty counter in a large drug store chain, and a full service salon. She is currently managing a busy salon in a large metropolitan area. At the time of writing, Veronica is 20 years old.
Veronica was home schooled for over half of her education and attended college in Oakville, Ontario. She is an avid reader - from fiction to horror to many non-fiction topics - and was in charge of editing a full length book before she co-authored "The Complete Low Carb High Fat No Hunger Diet" with her mother.
Having traveled to many countries during her early teens, Veronica has seen firsthand the diversity of cultures and their preferred foods. In her next book she plans to incorporate the principles of low carb high fat cooking with more of the spice and flair of a Mediterranean diet.
Praise For Stake & Eggs…
Praise for the Cackleberry Club Mystery series

"Childs excels at creating comforting settings in which to put her characters, and the Cackleberry Club is a place you'd like to visit."—St. Paul Pioneer Press

"Tasty and fun." —Minneapolis Star Tribune

"A delicious platter of thrilling whodunit, with a side of friendship and humor for dessert."—Las Vegas Review-Journal