The Autumn Bride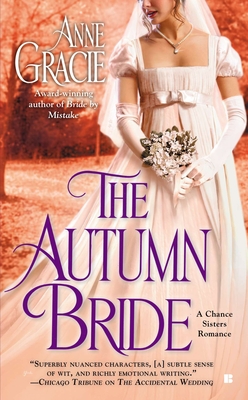 The Autumn Bride
Berkley Books, Mass Market Paperbound, 9780425259252, 310pp.
Publication Date: February 5, 2013
* Individual store prices may vary.
Buy at Local Store
Enter your zip code below to purchase from an indie close to you.
or
Buy Here
Description
Chosen as one of the best romances of 2013 by NPR and Library Journal From the beloved, award-winning Anne Gracie comes this brand-new series about four young women on the verge of destitution--until a daring act changes their fortune and transforms each of them into a glowing bride. For fans of Mary Balogh, Julia Quinn, and Stephanie Laurens... Governess Abigail Chantry will do anything to save her sister and two dearest friends from destitution, even if it means breaking into an empty mansion in the hope of finding something to sell. Instead of treasures, though, she finds the owner, Lady Beatrice Davenham, bedridden and neglected. Appalled, Abby rousts Lady Beatrice's predatory servants and--with Lady Beatrice's eager cooperation--the four young ladies become her "nieces," neatly eliminating the threat of disaster for all concerned It's the perfect situation, until Lady Beatrice's dashing and arrogant nephew, Max, Lord Davenham, returns from the Orient--and discovers an impostor running his household... A romantic entanglement was never the plan for these stubborn, passionate opponents--but falling in love may be as inevitable as the falling of autumn leaves...

*Mary Jo Putney.
About the Author
Anne Gracie lives in Australia.
Praise For The Autumn Bride…
Praise for Anne Gracie's THE AUTUMN BRIDE

~Chosen as one of the best romances of 2013 by NPR and Library Journal ~
~Shortlisted for the American Library Association's 2014 RUSA Reading List~
"Gracie charms and entices with this launch of the Regency-era Chance Sisters series. Orphaned governess Abigail Chantry receives the astonishing news that her younger sister, Jane, has been abducted and is captive in a brothel. Abby rescues Jane with the assistance of housemaid Daisy and fellow captive Damaris; the four bond together but struggle to make ends meet. Desperate, Abby breaks into a house—and meets ailing, charming Lady Beatrice Davenham, who has nothing worth stealing but could use some company. She takes in the four "Chance" sisters as her purported nieces, but the deception falters upon the return from overseas of her handsome nephew, Max. Abby's warmth and caring nature shine from the first moment, and Max's dedication to his family and friends make him worthy of her love. Layers of secrets and deft characterization make for a deep, rich story that will leave readers starry-eyed." –Publishers Weekly (starred review)

"A complex, charming heartwarmer that celebrates love, brave heroines and the miracle of second chances." --Kirkus Reviews

"Abigail Chantry sprints across London rooftops and into the window of an abandoned mansion in search of something to sell in order to save her sister and friends from a life on the streets. What she doesn't expect is to be greeted by an elderly lady asking, "Have you come to kill me?" and then being taken in by the woman. ... Delightful Jane Austen quotes introduce each chapter and add to the fun.  VERDICT With a pair of beautifully matched protagonists and some particularly despicable villains, this funny, dangerously addictive page-turner is a hands-down Regency winner; the rest of the series can't come fast enough.   –Library Journal

"I honestly can't remember the last time I've enjoyed a book quite this much.... I predict The Autumn Bride is going to be "THE" book to add to the TBR list of Historical Romance fans everywhere." --Night Owl

"Readers will want to take a chance on this delightful, heartwarming series about sisters of the heart, family, friends, and the fun and passion of romance. Gracie lifts readers' spirits, creating a delightful cast of characters, tender moments and lighthearted repartee designed to tug at the heart. Keep a hankie handy for tears of laughter and joy." --Romantic Times

"A warm and well-crafted romance novel, perfectly setting the stage for the stories to follow in Anne Gracie's new "Chance Sisters Romance" series....Heartfelt, charming and wonderfully paced, The Autumn Bride is full of emotionally rich characters, witty conversation and Anne Gracie's characteristic expert storytelling, guaranteed to leave readers with this story stamped on their hearts." --Reader to Reader

"There is nothing more enjoyable then a beautifully written, sweet romance where you watch two people fall in love—and The Autumn Bride is precisely that.  –Heroes and Heartbreakers
 
"I loved this romp through the nineteenth century, an entertaining rags to riches story….. I suggest you pick up THE AUTUMN BRIDE and laugh and cheer. I did.  –Fresh Fiction
 
"I loved everything about this book—the "sisters" who create a family out of affection and need, the hero as disillusioned boy and as honorable man, and the gallant, all together wonderful Lady Beatrice, who almost steals the book from the lovers.  From page one, I was engaged with this story. When Abby assures the three younger girls that "It doesn't hurt to dream," and the four share their dreams of what they want from life, I was in up to my heart. …. I didn't allow a small thing like the need to sleep keep me from the story. I finished it in the wee hours, knowing that Anne Gracie had created another world that I would want to visit again and again.  I can't wait for Book 2."   --JustJanga

"What an absolutely enchanting story!!"   --EBookObsessed