The Care and Handling of Roses with Thorns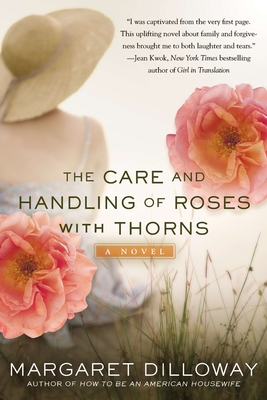 The Care and Handling of Roses with Thorns
Berkley Publishing Group, Paperback, 9780425260975, 404pp.
Publication Date: July 2, 2013
* Individual store prices may vary.
Buy Now
or
Shop Local
Enter your zip code below to purchase from an indie close to you.
Description
"Winner of the ALA Reading List Award
Difficult and obstinate. Thriving under a set of specific and limited conditions. That pretty much describes me. Maybe that's why I like these roses so much."
Roses are Galilee Garner's passion. An amateur breeder, she painstakingly cross-pollinates her plants to coax out new, better traits, striving to create a perfect strain of her favorite flower, the Hulthemia. Her dream is to win a major rose competition and one day have her version of the bloom sold in the commercial market.
Gal carefully calibrates the rest of her time to manage the kidney failure she's had since childhood, going to dialysis every other night, and teaching high school biology, where she is known for her exacting standards. The routine leaves little room for relationships, and Gal prefers it that way. Her roses never disappoint her the way people have.
Then one afternoon, Riley, the teenaged daughter of Gal's estranged sister, arrives unannounced to live with her, turning Gal's orderly existence upside down. Suddenly forced to adjust to each other's worlds, both will discover a resilience they never knew they had and a bond they never knew they needed.
About the Author
Margaret Dilloway was a California Arts Scholar in Creative Writing and won a National Council of Teacher English writing award. She practiced writing in a variety of forms, such as being a theater critic and contributing editor for two weekly newspapers, doing technical writing, and playwriting, before publishing three critically acclaimed books for adults, How to Be an American Housewife, The Care and Handling of Roses with Thorns, and Sisters of Heart and Snow.
Praise For The Care and Handling of Roses with Thorns…
"I was captivated from the very first page. This uplifting novel about family and forgiveness brought me to both laughter and tears."—Jean Kwok, New York Times bestselling author of Girl in Translation

"Rapturous. To say I loved this book is an understatement."—Caroline Leavitt, New York Times bestselling author of Pictures of You

"A touching, moving story…Margaret Dilloway is a gifted, talented writer."—Darien Gee, author of Friendship Bread

"Galilee Garner is as prickly, thorny, and gracefully sweet as one of her prize roses."—Tiffany Baker, New York Times bestselling author of The Little Giant of Aberdeen County

"Even readers with black thumbs will be enchanted by the bramble beauty that is Galilee Garner. Dilloway has cultivated a fascinating plot in the rich science and magic of flower breeding. A story about family and the ways in which the unexpected blossom is often the most cherished. This novel is a rose personified."—Sara McCoy, author of The Baker's Daughter and The Time It Snowed in Puerto Rico

"Believable situations with well-drawn characters make this novel as lovely as the roses Gal tends. Dilloway's second novel is a captivating study of how love and understanding nurture our lives. Engaging, enlightening, thoughtful, this is a winner."—Library Journal