Faith Bass Darling's Last Garage Sale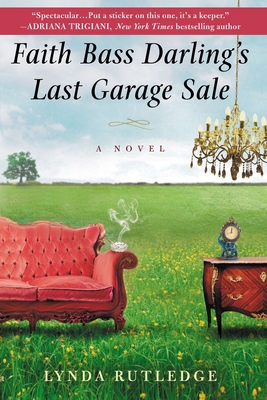 Faith Bass Darling's Last Garage Sale
Berkley Publishing Group, Paperback, 9780425261026, 327pp.
Publication Date: February 5, 2013
* Individual store prices may vary.
Buy at Local Store
Enter your zip code below to purchase from an indie close to you.
or
Buy Here
Description
When a wealthy woman decides to sell all of her worldly possessions, she unearths the secrets of her family's past in this charming debut--soon to be a major motion picture starring Catherine Deneuve On the last day of the millennium, sassy Faith Bass Darling, the richest old lady in Bass, Texas, decides to have a garage sale. With help from a couple of neighborhood boys, Faith lugs her priceless Louis XV elephant clock, countless Tiffany lamps, and everything else in her nineteenth-century mansion out onto her long, sloping lawn. Why is a recluse of twenty years suddenly selling off her dearest possessions? Because God told her to. As the townspeople grab up five generations of heirlooms, everyone drawn to the sale--including Faith's long-lost daughter--finds that the antiques not only hold family secrets but also inspire some of life's most important questions: Do our possessions possess us? What are we without our memories? Is there life after death or second chances here on earth? And is Faith really selling that Tiffany lamp for $1? READERS GUIDE INCLUDED.
About the Author
Lynda Rutledge, a fifth-generation Texan, has petted baby rhinos, snorkled with endangered turtles, and dodged hurricanes as a freelance journalist, while winning awards for her fiction. Faith Bass Darling's Last Garage Sale is her first novel.
Praise For Faith Bass Darling's Last Garage Sale…
"With a big Texas heart, Lynda Rutledge writes of second chances, redemption, what we truly own, and what we must release in this spectacular novel...Put a sticker on this one, it's a keeper."--New York Times bestselling author Adriana Trigiani

"I loved every page...Treat yourself to this luminous, enchanting story."--New York Times bestselling author Haywood Smith

"A small-town novel that asks big questions about life...A most thought-provoking read."--New York Times bestselling author Tiffany Baker

"Eerie, charming, heartrending, and heartbreaking at the same time, Rutledge's novel is a triumph."--W. P. (Bill) Kinsella, author of Shoeless Joe, the basis for the blockbuster movie Field of Dreams

"Oh, my God, this novel is GOOD!! I knew the idea was INSPIRED but I didn't dream what Rutledge could do with words. It knocked my socks off, and that doesn't happen often."--Jenny Winfield, author of The Homecoming of Samuel Lake

"Reminiscent of early works of Larry McMurtry and Edward Swift...in her wry and witty voice, Rutledge has given the tale, if not greater power, at least a contemporary twist...Adept at gently mocking the small-mindedness of small towns and celebrating the expansiveness of small-town souls, the author crafts a tale of love, identity, and redemption—not to mention some killer discount shopping."--The Texas Observer