While We Were Watching Downton Abbey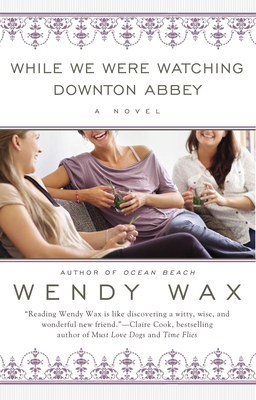 While We Were Watching Downton Abbey
Berkley Books, Paperback, 9780425263310, 384pp.
Publication Date: April 2, 2013
* Individual store prices may vary.
Buy Now
or
Shop Local
Enter your zip code below to purchase from an indie close to you.
Description
FROM THE BESTSELLING AUTHOR OF"TEN BEACH ROAD"AND"OCEAN BEACH, "A NEW NOVEL OF FOUR FRIENDS AND A SHARED PASSION THAT COULD CHANGE THEIR LIVES.
When the concierge of The Alexander, a historic Atlanta apartment building, invites his fellow residents to join him for weekly screenings of"Downton Abbey, "four very different people find themselves connecting with the addictive drama, and even more unexpectedly with each other
Samantha Davismarried young and for the wrong reason: the security of old Atlanta money for herself and for her orphaned brother and sister. She never expected her marriage to be complicated by love and compromised by a shattering family betrayal.
Claire Walker is now an empty nester and struggling author who left her home in the suburbs for the old world charm of The Alexander, and for a new and productive life. But she soon wonders if clinging to old dreams can be more destructive than having no dreams at all.
And then there's Brooke MacKenzie, a woman in constant battle with her faithless ex-husband. She's just starting to realize that it's time to take a deep breath and come to terms with the fact that her life is not the fairy tale she thought it would be.
For Samantha, Claire, Brooke and Edward, who arranges the weekly gatherings it will be a season of surprises as they forge a bond that will sustain them through some of life's hardest moments all of it reflected in the unfolding drama, comedy, and convergent lives of"Downton Abbey.
About the Author
Wendy Wax is the USA Today bestselling author whose contemporary women's fiction includes the highly praised Ten Beach Road, Ocean Beach, The House on Mermaid Point, While We Were Watching Downton Abbey, Magnolia Wednesdays, and The Accidental Bestseller. A former broadcaster, she lives in the Atlanta area with her family.
Praise For While We Were Watching Downton Abbey…
"What do you get when you mix one dashing British concierge with three lonely women from diverse backgrounds, set them all in a historic apartment building in Midtown Atlanta, then turn on the television?  What you get, actually, is quite a clever, fun little novel. And could Wendy Wax be any more clever naming it While We Were Watching Downton Abbey?  That title alone is reason enough to pick up the book and see what the heck is going on. What's going on is Edward, the ever-so-dapper concierge at the Alexander, decides the tenants need to get out more and meet each other. So he sets up an evening where everyone meets in a room downstairs and watches the hit British series about landed aristocracy at the beginning of the 20th century.…But none of these women — or Edward — quite know what their future will bring, which moves this tale along. They connect with one another, and the show, and we're not saying anything more.  If you're a sucker for plucky women who rise to the occasion, this is for you….Fun reading for a spring weekend. You might even be tempted to move in. Edward would arrange everything. Of course." --USA Today

"A tribute to the transformative power of female friendship, and reading Wendy Wax is like discovering a witty, wise, and wonderful new friend."—Claire Cook, bestselling author of Must Love Dogs and Time Flies
 
"If you're a sucker for plucky women who rise to the occasion, this is for you."—USA Today
 
"Wax's trendy premise makes for a surprisingly poignant and enjoyable story about friendship."—Booklist
 
"In the style of…Karen Joy Fowler's The Jane Austen Book Club…the book engrosses its reader in the drama of these women's love lives and emotional struggles."—Deseret News
 
"A grand, well-paced contemporary read definitely deserving to be on the bestseller list!!! Great writing!"—Crystal Book Reviews
 
"Wendy Wax's fresh approach to an entertaining storyline hooks us with the idea that other things could happen "while we were watching Downton Abbey"…Honesty in any relationship is vital, and Wax shows this truth in downtown Atlanta alongside the engrossing story of Downton Abbey."—Bookreporter.com
 
"This warm and charming novel about struggling to redefine yourself will be your perfect escape."—Lisa Steinke, She Knows
 
"Pulled me in… I highly recommend it."—Night Owl Reviews
 
"Again, Wax has knocked it out of the park."—Great Thoughts

"Wax's trendy premise makes for a surprisingly poignant and enjoyable story about friendship. Readers need not be fans of the show to enjoy this tale." --Booklist

"While We Were Watching Downton Abbey is a tribute to the transformative power of female friendship, and reading Wendy Wax is like discovering a witty, wise, and wonderful new friend." – Claire Cook, bestselling author of Must Love Dogs and Time Flies

"A beautiful book about loyalty, courage, and pursuing your dreams with a little help from your friends…A novel to savor!"—Karen White, New York Times bestselling author of Sea Change

"[Wax] writes with breezy wit and keen insight." —The Atlanta Journal-Constitution

"Heartwarming…[this] dynamic, fast-paced story is a loving tribute to friendship and the power of the female spirit."—Las Vegas Review-Journal

"Great escape reading, perfect for the beach."—Library Journal

"A terrific story brimming with wit, warmth, and good humor. I loved it!"—Jane Porter, author of She's Gone Country

"A wry, revealing tell-all about friendship."—Haywood Smith, New York Times bestselling author

"Captivating….Wonderfully entertaining."—Southern Seasons

"Sexual magnetism…and a secret…add dramatic tension…showcasing three women who rise above their shattered realities with grace, determination, and a little elbow grease."—Publishers Weekly